Travelling with children can be a hard slog. Yes, it'll all be worth it once you get there but it might not feel like that when, a mere 40 minutes into the trip, you've got an inconsolable four-year-old, and only one wet wipe and half a packet of cheese and onion crisps left.
Whether you're travelling by car, boat, train or plane, keep these survival tips and ideas up your sleeve…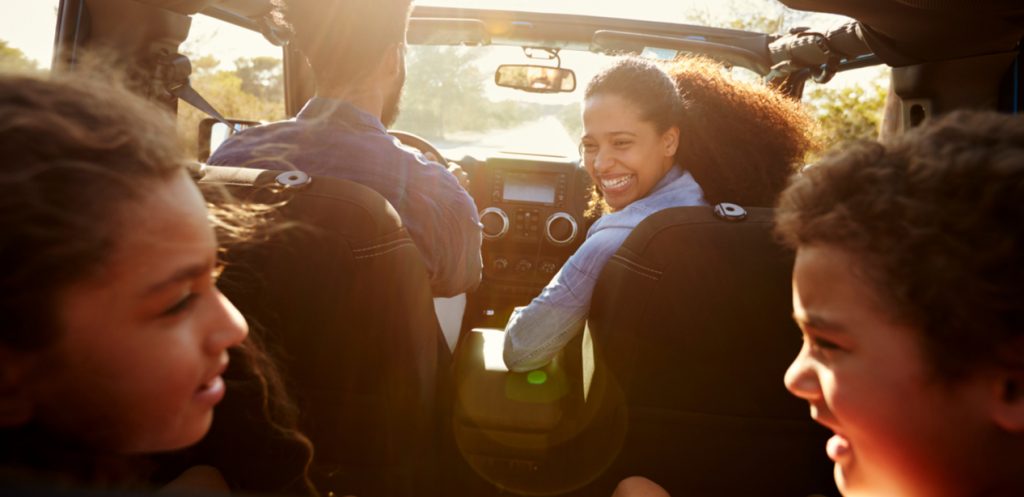 Ready, steady, go
If your holiday's starting with a long car journey, consider setting off at night, or before the crack of dawn, so that children sleep through (most of) it.
Programme the satnav, if you have one, and then (satnav or no satnav – it's good to have back-up) get the map out and study it before you go. Write out explicit directions from your starting point to the finish line.
If you do take a wrong turn, try not to swear/rant/sob too dramatically: some children can get a bit stressed if they think that you're truly lost.
If your car journey has a deadline – a specific ferry crossing or flight, for example – allow plenty of extra time. Kids are happier travellers if you let them blow off some steam between periods of being strapped in.
I-Spy versus iPad
The days when you and your siblings were cheerily bundled into the boot of dad's Ford Escort and told to play I-Spy are long gone. Entertainment has gone high-tech.
Portable DVD players are perfect for car journeys – you can get ones that hook over the back of the front car seats, and even dual ones so that two children can view a screen each. Take a stash of their favourite DVDs and you're good to go.
MP3 players and iPods are a good investment too, and can be played through the car radio, plugged into a set of speakers – or, if your tolerance for Kipper stories on loop was exhausted some miles back – listened to via suitable headphones.
Are you sitting comfortably?
Here's how to avoid sticky (or sicky) disasters:
Small pieces of easy-to-hold, not-too-sticky foods are best. Chocolatey things melt very rapidly in a clammy toddler hand.
Use sippy cups or sports bottles rather than juice cartons or cans.
If you're travelling with a toddler, cut down on panic-stricken breaks by taking along a portable travel potty.
Take a change of clothing, and don't tempt fate by dressing your kids up in their Sunday best in anticipation of your arrival.
If your child often feels sick on car journeys, ask your GP/pharmacist if there are any medicines they can safely take. You may have to accept though, that you're in for many miles of Eddie Stobart spotting – the trick is to keep your child focused on things outside the car, rather than a book or screen.
Even if your child isn't usually sick, it's worth being prepared. Keep a plastic bag in the glove compartment to hand over to anyone who's feeling a bit queasy.
Hire cars and car seats
Make sure you've done your homework about car seat standards and regulations in your destination country before you go.
Always phone the hire company before your holiday to make sure they're supplying the right number and type of car seats – it could save a lot of hassle on arrival.
Be prepared to install a car-seat with no instructions. Alternatively, buy one from the UK to take with you.
For more on car seats check out Baby Car Seats Buyer's Guide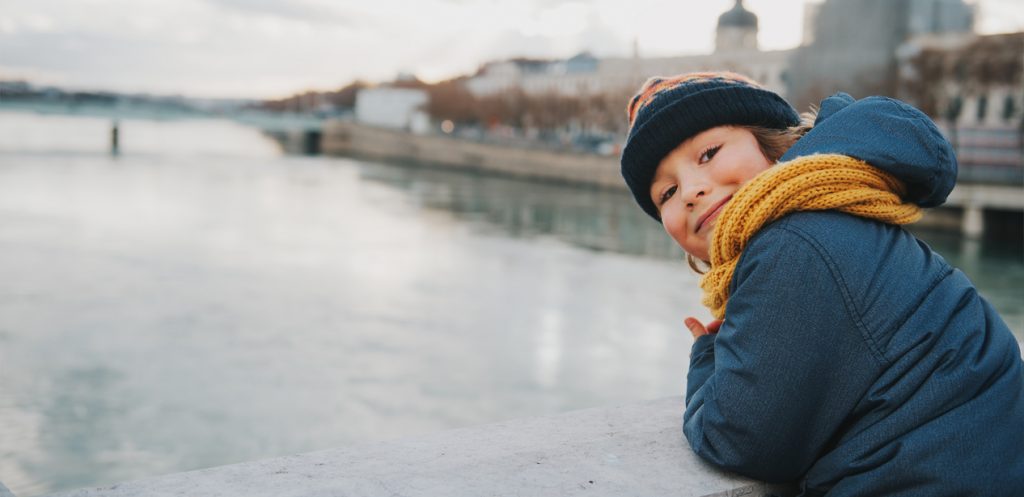 Most children regard ferries as a floating fun/treasure palace – and it's true that the beauty of going by boat instead of plane is that your children can roam free(-ish) without upsetting other passengers.
Yo, heave-ho: dealing with seasickness
Make sure you take any anti-motion sickness medicine before you leave dry land – they usually take a bit of time to work.
It's generally better to be outside on deck than inside – but focus on the horizon, not the waves.
If that doesn't work, lying down with eyes shut helps the brain to unscramble the mixed messages it's receiving.
If lying down isn't an option, and it's too cold to be on deck, find a seat on a lower deck in the middle of the boat, where there's the least motion.
Salty snacks in small quantities may help.
Some people swear by elastic wristbands that use acupressure to stimulate the median nerve; alternatively, press against the middle of the inner wrist about three finger widths above the crease.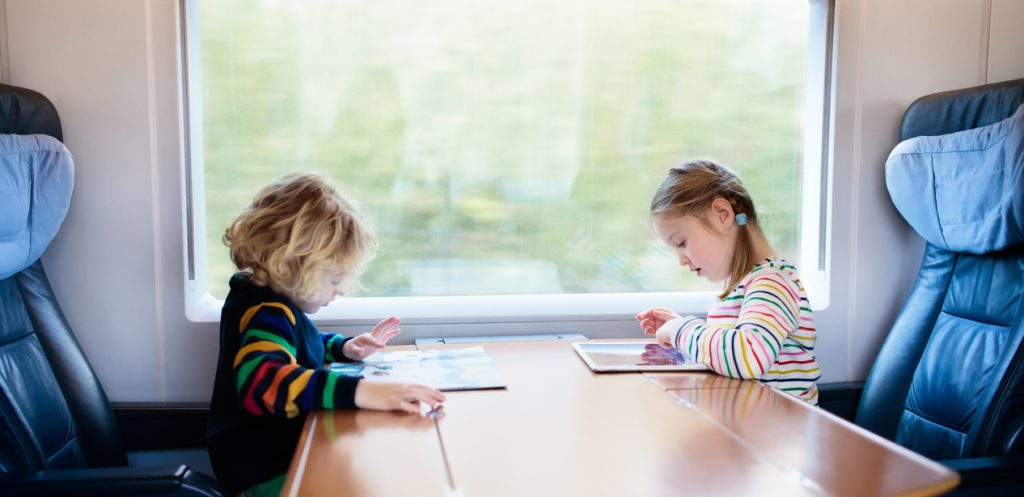 There's a lot to be said for letting the train take the strain. There's more space for starters, no need to stay strapped in all the time, and it's unlikely anyone will suffer from travel sickness.
All aboard
Carrying bags, a buggy and a fractious toddler over a bridge to another platform will make you want to cry. Rucksacks are better than bags or, better still, put your smallest in a backpack – this leaves you a hand free to hold onto an older sibling.
You'll need to bring your own entertainment, but many trains now have power and headphone sockets, even WiFi (which increases the possibilities for older children) – and at least there are tables on trains for younger ones' activities.
If you're going to be sleeping on the train (a highly exciting prospect for any child old enough to grasp the concept) make sure you have your own cabin if possible; also clip-on lights for you and your partner to read by once the kids are asleep, drinks for you and DP, emergency rations for the kids – and realistic expectations about how much sleep you'll get.
Check out Best Compact Travel Cot 2018
Travelling by plane with kids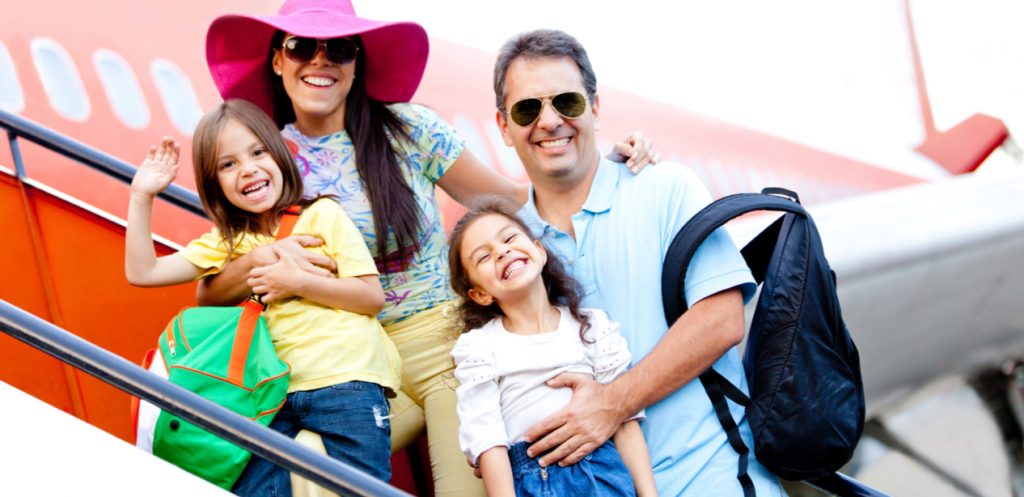 Taking children, particularly toddlers, on a plane can be a pretty terrifying prospect. Few parents relish having their unpredictable offspring confined in a small space with 100 pairs of eyes waiting for a shout or thrown toy, so that they can begin a synchronised chorus of tutting. But it doesn't have to be turbulent. If you expect the worst, at least the sheer relief will perk you all up if things go well.
Ready for boarding
A few airports have crèches equipped with toys, books and rest rooms – check out whether yours does before you travel.
Ask if you can take your buggy to the gate. This will mean you can keep it with you until you're actually at the steps of the plane, when the cabin staff will take it onto the plane and put it in the hold for you. Alternatively, some airport have strollers which you can borrow and return when you board.
Take your seats
Under-twos can usually travel free, but this will mean jiggling them on your lap for the entire flight.
It can be easier to pay the (often discounted) fare, if your budget will stretch to this, so that you have an extra seat.
Aisle seats are useful on larger planes because you don't have to ask anyone to move for you if you need the loo – and, if the aisle is free, children can have a little wander.
Alternatively, a seat near the bulkhead (where there is a 'wall' in front of you) may have a bit of extra room, so your toddler could play on the floor.
Get other passengers on your side: smile and say hello and make contact before you take off. That way, if your child kicks up and makes a noise, they will be less likely to launch the tutting chorus.
Also read Your Guide to Buying a Travel System
Ready for take off (and landing)
Small babies are much more sensitive than adults to changes in air pressure, as the plane climbs and descends. Crying helps to clear their ears, though you may prefer to give them a feed, or something to suck on, as swallowing has the same calming effect (and is slightly easier on other people's eardrums).
In-flight entertainment
Most of your things will need to be stored in an overhead locker that's hard to get at if you've got a child on your lap. Keep the paraphernalia you know you'll definitely need in one small accessible bag that fits just under your seat.
A good rule of thumb: if whatever is keeping your child entertained is quieter than the roar of the engines, and doesn't involve irritating your fellow passengers, let them do it.
Mumsnetters suggest: reusable stickers, a wrapped selection of stocking-filler type toys to be opened every hour/half-hour, a new toy (ideally one coveted for weeks previously), a tablet loaded with games/films, comics, books, plenty of finger-food snacks.
If you can, try and fly close to your child's nap/bedtime – they might sleep for at least some of the journey.
Make sure you check and then re-check on-board facilities for little ones, including meals and changing facilities, before you travel – and find out whether they're free or cost extra.
Check out  10 Travel Tips for a Holiday with Kids