When it comes to lunch boxes, it is essential to think of the material they are produced in. Needless to say, your children will be consuming what you put inside them, and we have learned that some of the components that non-eco-friendly lunch boxes are made of are alarmingly labelled as toxic. Add the element of the UAE heat, and we would rather be safe than expose our family to questionable plastics and polymers. Below we have listed our favourites:
Bento Lunch Boxes are cool. They are a sign of worldliness, and they are rather aesthetically pleasing for a minimalist kitchen. The set we linked to below caters to all appetites – small and big ones.
Stainless Steel Lunch Boxes are the best. You will love this one from Citron Bento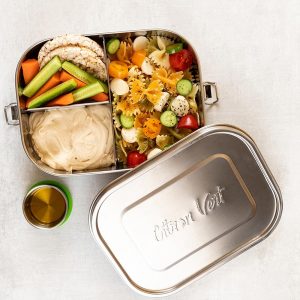 All girls love Unicorn designs. What else is certain is that this Bamboo Lunch Box will be very well received by your very own princess.