Pursuing a career path, while being a mother is a road many mothers take today; however, not every mother has the support network needed to work full time, this is often the thing that may force her to choose either staying at home or working in a job that doesn't satisfy her ambition or encourage her growth.
I've been there, as I had two kids and was living in a city far from my parents, and my husband had a job where he travels a lot, so I had to make a choice and compromise my full-time job to stay at home and raise my children.
As an A-type personality who wouldn't settle for choosing one or the other and with my ambition to build a career the driving force to keep searching for a role with the right fit. I had several "working from home" jobs with several companies; however, the magic started to happen when I joined mumzworld, because unlike others, it allowed me to build a career, grow in my position, and build a team.
I have compiled the reasons why I love working for mumzworld, and recommend it as an excellent working environment for mothers:
Mothers have the chance to pursue a career path while working from home.
These days, with the technology we have available working from home, or remotely often from other cities or even countries is not an unusual setup.  More often than not, many working from home jobs are based on providing a specific service, like translation, or design, for example. In mumzworld mothers can work from home even for managerial and team leading positions, which offers them the opportunity to grow in a way that meets their ambition.
A true support network.
Whether you are welcoming a new baby to the family or going through some tough circumstances in your life, the whole team will be there for you.
Kids of all ages are welcome in the office.
Walking into the mumzworld office, it's normal to see children playing around, or just lounging in the bean bags scattered around the office. All mothers are welcome to bring their kids along to the office when they have to. While I was there, I took my three children a couple of times, and they were comfortable and welcomed by all.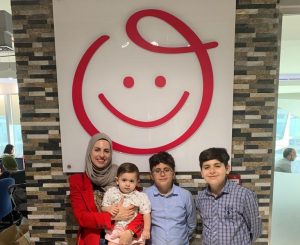 Flexible working hours.
As all mothers have different family and parenting commitments with different timetables, mumzworld allows in some cases for flexible working hours, so you may notice that some employees arrive earlier and leave earlier, others work on different days of the week, ways that support a better work-life balance.
Being a Mother is actually an advantage!
If you are applying to work for mumzworld don't forget to mention that you are a mother!
Open communication.
You can always talk to the CEO Mona Ataya or CCO Leena Khalil about any issues you are facing at work, they will listen, support, and give you advice both in a practical and personal level.
A true mothers company inside out!
To sum it up, mumzworld is a place for mothers who need a supportive environment, be it through their work environment, or through the website which helps over 2.5 million mothers make informed choices for their families.