An easy fold is essential to any pushchair, and the Baby Jogger City Tour more than ticks that box.
If you're a fan of Baby Jogger's City Minis, the Tour will be right up your street. The City Tour's quick fold was our favourite in the category. It collapses at the push of a button, and is by far the easiest to do with one hand. Reopening the stroller can also be done one-handed by releasing a side clasp and shaking it out, making it just as easy to put up. We found this invaluable when using public transport alone, with a baby on one arm; it saves faffing, and allows you to use the steps in stations and in buildings.
And not only that; this buggy is lightweight, has ample storage space and can be easily steered with one hand for that extra bit of convenience. The front wheel suspension gives your baby a smooth ride.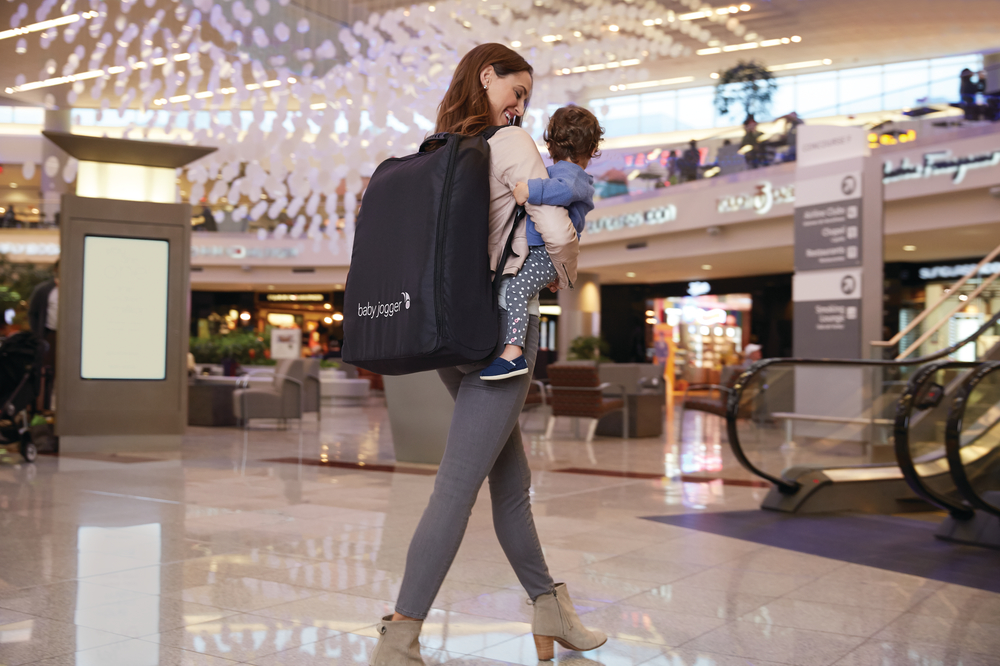 The City Tour stroller is easy to carry when folded; it has a handy shoulder strap and even fits into a lightweight, backpack-style carry bag, which is the right size for hand luggage when travelling. While you wouldn't use the travel bag on a day to day basis, we thought it would be incredibly useful on holiday, or even to keep it neatly stacked in the car boot. It's one of the lighter strollers at 6.4kg, making it easy to lift and to steer with one hand (so you can hold a coffee in the other – bonus!). However, despite its quick fold, it's not the most compact. Although Baby Jogger claims it can fit into an overhead locker, when folded the City Tour is taller than the more compact Babyzen Yoyo+.
However, the extra space means the City Tour is a great option for storage. Its sizable shopping basket holds up to 7kg, plenty for everyday items and shopping, and for valuables (or snacks) there's a separate zipped pocket that holds an extra 1kg. Despite its lightness, the stroller is definitely sturdy enough to hold a shopping bag or two on the handle with a buggy clip. All this is perfect if you have more than one child's worth of things, or if you're going on a grocery run!
If a travel system is a must, you might have to look elsewhere; the City Tour can't be used as a car seat, and the buggy's seat unit can only be used from 6 months. However, for a slightly older baby, we were impressed by what we got at a very reasonable price. It also comes with a large SPF 50+ sun canopy and a rain cover, so you'll be prepared whatever the weather.
All in all, this is a high quality product that is light, easy to use and a great all rounder.
The Specs:
Suitable from: 6 months
Weight: 7.6kg
Dimensions when folded: H25 x W62 x L80 cm
Maximum weight for shopping basket: 7kg (additional 1kg of storage)
RRP: £269 at time of review
Estimated resale value: £160
Available in onyx, juniper, and violet (otherwise known as black, green and pink).