I remember how overwhelming it was the closer I got to my due date. All the preps I had to make sure were in place for when the twins arrived. I had a registry and a checklist of over 70 items which I thought were necessary to have. But most of which we ended up not using! So, what are the newborn essentials you really need? 
I have put together the products which saved our sanity in the first six months, and hopefully save your pockets too!
Most of the items can be found on Mumzworld.com – use code: FARAH10 when checking out to get 10% off your purchase!
We use two kinds of car seats, Maxi-Cosi Pebble Plus for the newborn stage and then moved to Maxi-Cosi AssixFix once they're a bit older.
Here are some of the reasons why we like these car seats:
– All Maxi-Cosi car seats are compliant with the latest i-Size car seat regulations, so you know you are getting the safest in the market!

– ISOFIX system makes it very easy and safe to install

– All baby car seats come with baby-hugg inlay to keep your little one safe and secured

– Having so many color options is always a plus!
We currently use the Hamilton Stroller One Prime X1 and boy does it make going out a breeze! Some awesome features of the stroller:
– Super lightweight

– Adjustable footrest

– Magicfold™ with a simple hand movement – so if you've got your hands full with groceries or carrying your little one, all you need to do is press the button on top and gentle push away from you… IT FOLDS ON ITS OWN!

– You can adjust the recline on the stroller on 3 different levels – perfect for when your little one is tired and wants to nap

– 5-point safety harness with magnetic buckles – super easy for you to lock & unlock while totally childproof!

– Airplane cabin-sized approved! Your perfect companion while traveling or on the go!
Although we have a video baby monitor installed in the boys' rooms, we cannot survive without the radio monitor! Here is why we depend on Philips Avent baby monitor:
– Large radio range (up to 330 meters)

– Voice activated with blue lights to indicate the level of noise

– It displays room temperature on the parent unit screen

– Has soft yellow light and lullabies which you can activate remotely!

– Two way talking through parent unit

– Informs you if parent unit is out of range or battery
4| Milk Feeds – Baby Brezza Formula Pro:
Although it is getting more difficult to find this specific product here, there are similar ones which do the job just right! Here are some of the perks of using Baby Brezza if you're formula feeding:
– Hassle free formula preparation in just a few seconds– no measuring, no mixing, no warming! (Imagine how handy this is for night feeds!)

– Airtight formula storage – can hold up to 700 grams of formula powder

– Dispenses up to 300ML of milk 

– Adjustable base to fit any bottle size

– Easy to assemble and clean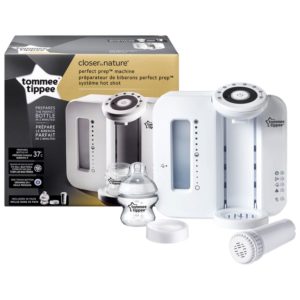 This might possibly be my favorite item on the list! Bath time has always been something I dreaded, not because I did not want to shower the boys – but because the strain it took on my back. This is why Charli Chair 2-in-1 made shower time more enjoyable:
– Sleek, lightweight aluminum frame design – meaning you can move it around however you like

– 5 Point adjustable safety harness – so your little one is safe and put while in the shower

– Non Slip seat surface and rubber feet – for extra safety while in the shower

– Multi-position recline and 3-level height adjustment – making it easier for you or anyone to handle shower duty