Arcadia School was founded on the principle that every child should be exposed to a variety of learning experiences throughout their educational journey, and therefore the vision of creating a 'lifelong learning' experience came to life through this concept. Arcadia has an extended day for all children, allowing us to ensure the highest possible attention to detail in the delivery of the UAE curriculum alongside the English National Curriculum, whilst delivering the traditional 'after-school' enrichment programme within the school day.
We prioritise seven key areas of development: academic excellence, sporting performance, performing arts, digital literacy, entrepreneurship, STREAM (science, technology, robotics, engineering, arts and mathematics) and adventurous activities to bring learning to life and give our children the foundation of success in areas of development that they are interested in.
Arcadia School has a fully inclusive programme of study, allowing students to access this impressive range of learning opportunities regardless of ability, language and learning needs. We have an active and supportive programme for students of determination and English language learners, with a diverse nationality mix of over 75 home countries. We are a British International School which is a proud member of the AoBSO (Association of British International Schools) and the BSME (British Schools of the Middle East), however, we recognise the importance of international-mindedness and ensure that students don't lose sight of their socio-cultural heritage, through programmes such as the mother-tongue language academy, the culture calendar and peer mentoring scheme.
Arcadia protects its class sizes, to ensure a greater focus on learning for the children, with no class larger than 25 in any phase and 18 students the maximum in the KS5 A Level programme, which opens in 2024. This also creates a low pupil to teacher ratio of 1:11, creating a real focused drive on learning. We have two, state-of-the-art facilities housing our primary and secondary teams, built by the renowned architect Godwin Austen Johnson. You can feel the presence of space and light in every teaching zone. Uniquely built for purpose, the learning areas, such as the STREAM Hub, Science classrooms, media and technology spaces and design hubs, really showcase the importance of real-life learning, where  resource allocation gives children the opportunity to experience activities that create wonder, fascination and excitement.
Our learning journey begins in EYFS (Early Years Foundation Stage) with a carefully crafted programme which allows our children the chance to play and explore, investigate and experience things, and simply 'have a go'. Growing confidence and socialisation is essential for this age group, and our wonderful creative play areas in the primary school allow the teachers to develop their 'in the moment' planning to further enhance childhood experiences. Arcadia follows the UK seven areas of learning and starts that journey of exploration using other specialists including dance and music, global languages, digital learning and physical education. External visits to local community programmes and play spaces are also vital to allow the children to start developing their real life learning experiences.
Wellbeing is at the heart of everything we do, ensuring that our children can operate in a space that is kind, supportive and psychologically safe. Our team of counselling and pastoral experts regularly survey and check-in with all classes and create a programme of social activities to help maintain a really positive atmosphere. Voted as best new school in the entire UAE in our sixth year of operations, from a panel of distinguished educators, we were proud to have been recognised as an institution which provides an outstanding learning programme in a space which is rich in wellbeing.
What makes Arcadia School different?
Academic Excellence
Arcadia prides itself on delivering a curriculum and learning experience that gets the best out of every child. Following the National Curriculum for England from EYFS (Early Years Foundation Stage) through Key Stages 1, 2 and 3, into iGCSE (Years 10 and 11) and the completion of studies in Year 12 and 13, with either A Levels or BTECs (Business and Technology Education Council) qualifications. Through our robust data and assessment practices, we ensure every child has a clear developmental pathway through the school where regular intervention, if needed, can support the journey in ensuring each person goes beyond their potential. Ensuring gifted children can excel in areas of expertise is equally important, and the Arcadia Exceptional Learner Programme does just that, through talent identification, support programmes and world class coaching, students can access activities such as the UN Diplomathon, subject Olympiads, LAMDA, Trinity and Cambridge awards in performing arts, sport pathways, such as the UAE Netball Exceptional Player Programme, the Lego League and many many more.
Sporting Provision
Arcadia has modelled their approach on independent schools in the UK, US and Australasia with a strong emphasis on games provision alongside swimming and PE with a double games sessions for every year group from Year 3 to 11 to allow students time and expert coaching in preparation of the DASSA (Dubai Athletics and School Sport) league fixtures. The teaching and coaching team contain a number of international athletes, including an English National swimmer, first class cricketer, semi-professional footballer and even a British Olympian. Students identified on the exceptional pathways also receive pull-out sessions from Year 7 onwards and are guided towards their goals through skill acquisition and a strength and conditioning programme. Multiple teams and clubs run throughout the seasons, ensuring there is excellence through a sport for all provision.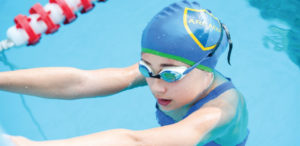 Performing Arts
Our Head of Performing Arts, has recognised the importance of this field of learning with the introduction of the LAMDA (London Academy of Music and Dramatic Arts) qualifications, open to students from Year 3 and up. LAMDA joins the Trinity and Cambridge music awards which are taken alongside the peripatetic lessons in both schools and we have introduced a dedicated performance specialist to help enhance the programme in EYFS and KS1. We run 5 winter shows and a full summer production to support the curriculum activities alongside GCSE and A level Music and Drama. Arcadia has strong connections with the local drama community and hosts 4 showcase events in school annually with UK and international guest performers.
Digital Literacy
Arcadia gained the auspicious title of Apple Distinguished School for the second time in 2022, amongst only 700 schools worldwide with this title. We have a BYOD programme from Y3 upwards, for Apple devices and computing is a curriculum programme all the way from Year 1. Children integrate the use of technology to explore different themes and can easily collaborate and showcase work using systems such as Nearpod and Seesaw. As we graduate towards the examination classes, Arcadia teachers use AI systems such as Century Tech and Sparx to help students gain access to regular self-paced intervention and to boost their academic momentum outside of the classroom. The entrepreneurship and STREAM programmes dovetail nicely into this design profile, particularly as students start to use more sophisticated code in the C.E.L. (Centre for Entrepreneurial Learning) programme in the secondary school. We understand that digital literacy is important, but must still work alongside more physical and practical learning processes to create a rounded learner.
STREAM Learning
Arcadia has developed its own STREAM (Science, Technology, Robotics, Engineering, Arts, Mathematics) programme throughout the school. Beginning their journey in year one, children experience multiple problem solving activities to activate their creative through processes, using the STREAM hub to work with specialists up to Year 5 creating collaborative projects linked to their core areas of learning. Arcadia has partnered with organisations such as Bildits and Atlab, to bring this learning to life with resources to stimulate and excite. From Year 6 onwards, students move into the design programme and ALLS (Lifelong learning) skills sessions which bridge the gap from primary to secondary. Clay modelling, coding, robotics, Lego Spike, environmental engineering all supplement the curriculum to allow the students to go further and deeper in their pursuit of additional iGCSE and A Level options.
Entrepreneurship
Arcadia's very own CEO, Navin Valrani, who holds an MBA from the London Business School, crafted our first Junior MBA programme from Year 1 to 6 and now this has taken even more shape with business pitch 'Dragon's Den' style in term 2 and the Apex Project in term 3. Primary students learn how to finance, market and promote a business as part of their taught units and then collaborate to generate their own planned ideas to the school leadership. Secondary students ramp this up with their C.E.L. termly units, finishing with a launchpad project in Year 10, which counts as half an iGCSE through the HPQ programme. Business Studies and Economics are launched as exams in Year 10 and those interested in this pathway can sign up for an internship with a local business from Year 9 onwards.
Adventurous Activities
Finally, we want our students to experience controlled risk-taking through the use of service learning events and activities. Arcadia collaborates with Absolute Adventure and the Overlord Academy to provide such experiences and children from Year 3 start their overnight camping experience as they move on to graduate from the Bronze and Silver Duke of Edinburgh programmes. Primary students start with their Junior Dukes to commence their service experience and as their experience and confidence grows, opportunities to travel internationally to less developed areas begin in order to give something back to the global community.
As a school, these 'magnificent seven' learning foci, encapsulate what we stand for. We fundamentally believe that when our children exit the school as students, they will be equipped for whatever the world is going to throw at them. Confident, committed, globally aware, astute and rounded individuals are what we are growing and we can't wait to share these experiences with you.