Traveling with a newborn baby for the first time can be both exciting and scary. One of the most important things that most mums forget are stroller accessories. You might stop and wonder, why would I need them? Well, there are lots of accessories for your little one's stroller that help you stay hands free. Or they simply keep your little angel safe and comfy during waiting hours at airports for instance. And if you are wondering which stroller accessories you need, we gathered the top 10 accessories that every mum needs.
2| Stroller Hooks
Did you ever find yourself with so much to hold and no empty hands to push the stroller? We have all been there! That is why we LOVE stroller hooks. Not only do they help you keep your hands free, but they carry the weight off of you. They 'll also make airport shopping easier. They are also great not just for shopping bags, but your own bag and your little one's diaper bag as well. Bumble & Bird's rotating hooks are very sturdy and they swivel at 360 degrees to your convenience.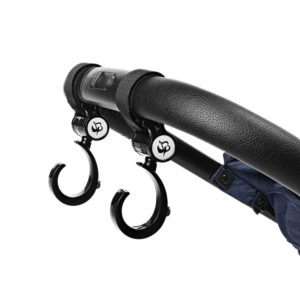 3| Stroller Organizer
A stroller organizer is a little pouch that can hold things you need quick access to. We love this organizer from SkipHop because it fits perfectly and easily on your stroller's handle bar. It also has adjustable straps, a stretching insulated drink holder, and an opening or a headphone cord. This way you will have everything your little one needs while roaming around the airport.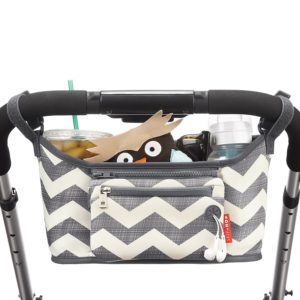 A buggy board offers a second seat for your older child on your stroller. Which is an amazing thing when traveling with a newborn baby and a 5 year old for example. It is an extra safe seat that can be attached to your stroller. This one easily fits almost all prams and strollers. In addition, it can be installed on the stroller in a single-click connection and with just one hand, thanks to an exclusive connection system! This one is a very comfortable, safe and easy to use choice.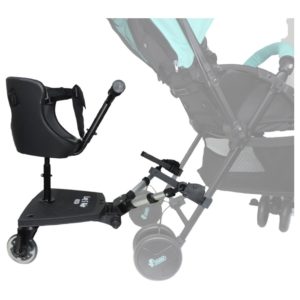 5| Seat pad
A seat pad is one of the great stroller accessories that protects your baby when on a stroller. This universal liner for strollers and buggies is very useful to keep your baby's body away from heat and humidity. A plus side, it keep the stroller clean and makes it easier to clean.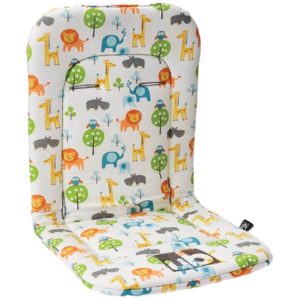 6| Umbrella
Unlike common belief, an umbrella is not just for winter and rain. If you are living in a place like Dubai, where the sun shines all year round, then you need it just as well. This BABYZEN YOYO Parasol protects your little one from sunlight when going on a walk in the parks of Dubai on a nice sunny day. It can be easily installed on strollers as it has a universal locking mechanism.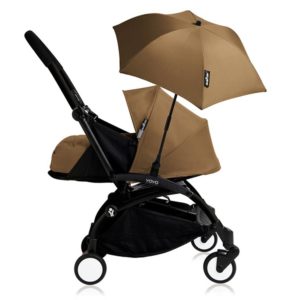 7| Protective Cover
Stroller covers are very efficient for protecting children in strollers from either direct sunlight or rain. This cover is designed to protect your little one against direct UV sun rays, light, wind, and dust. You cannot do without when living in the GCC. It is also very convenient as it can be installed on Cybex stroller, the GB Pockit and Pockit Air, the Bugaboo Bee stroller, the Mountain Buggy Nano and the Joie Pact.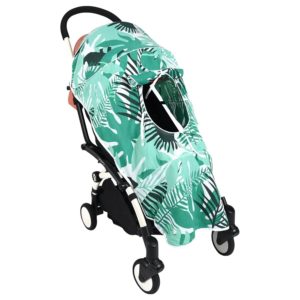 8| A phone holder
Did you ever lose your phone while pushing the stroller? Did you hear it ring but couldn't tell where is it? Or did you drop it constantly trying to hold it while also pushing the stroller? We bet the answers are yes, yes, and yes. Well, you will never experience this again with this stroller phone holder. It can be easily installed on the stroller's handlebar. Also, the soft and anti-slip rubber base plate prevents your phone from sliding off or getting scratched. Isn't that just great!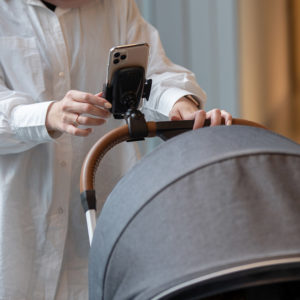 9| Cup Holder
Who does not love getting a cup of coffee when waiting for a flight? We know sometimes handling a cup of coffee one top of a stroller and a bag can seem too much. And that is why you need a cup holder on your baby's stroller. You can also use it to keep water bottles or any drinks for either you or your baby at the reach of your hand.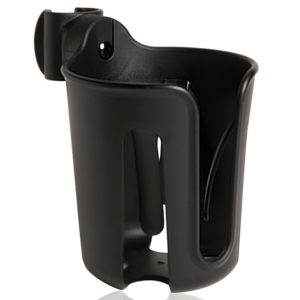 10| Little toys
Those little toys that can be hung from your little one's stroller are both adorable and useful. They keep little ones busy and entertained while they are in their strollers. Trust us, there will be no more fuss when you get the right stroller toy!