The UAE National Day is fast approaching with heaps of events and celebrations taking place throughout the country. Such as concerts, fireworks displays, art shows and shopping sales. You are likely to see displays all throughout the country in the colors of the UAE flag, as well as symbols such as the falcon or the seven stars. Which represents each of the seven emirates.
UAE National Day Onesies
Here at Mumzworld we can help you commemorate this wonderful occasion with these amazing UAE themed clothes and gifts. We also have some cute outfits for younger babies such as these lovely themed onesies:
Those two onesies are just too adorable! They are perfect for little ones with big dreams. They are made of 100% Cotton Outerwear. Making them super soft, breathable and incredibly comfy for your little ones!
T shirts
As many of you know 2019 was also the year that the UAE's first ever astronaut, Hazza Al Mansouri, embarked upon his first mission into space; and Mumzworld has found the perfect t-shirt to combine this historical event and UAE National Day. Get this UAE's Space Astronaut Cotton T-Shirt from Twinkle Hands now!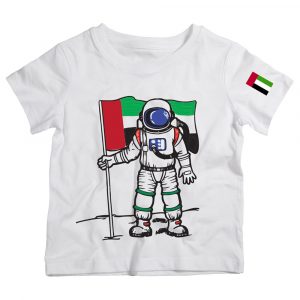 If you're having a celebration at home or at your child's nursery or school, Mumzworld have you covered with these balloons, badges and flags: