Attending classes in the arts, has been proven to help improve overall physical and mental wellbeing.
When learning to dance, children exercise and learn on an unconscious level, whilst having fun dancing to their favourite songs.  Through commitment and practice, skills such as rhythm, timing and a new, often complicated sequence of steps are learnt.  This gives the child a sense of achievement.  This is optimized when a goal of performing a full routine, live in front of an audience, is realized.
The benefits don't stop there, dance has incredible benefits on body, mind and soul!
If your child isn't already engaged in dance and / or performing arts activities, here are some benefits that are worth thinking about..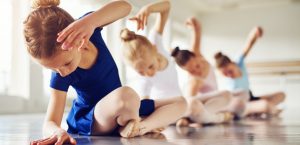 Physical
Dance works all the core muscle groups and is great for the mind too.  Physical benefits include improvements in;
fitness
coordination
response time
core strength
balance
flexibility
mental agility
memory
relaxation
Confidence
Confidence is one of the main reason's students participate in performing arts activities.
Shy, nervous children blossom into confident, expressive performers who are able to let go of their inhibitions and have the courage to perform in front of large audiences.
Often, the transformation is seemingly miraculous.  This delights the child, parents and audiences alike.
By learning to express in a non-judgmental environment, with the guidance of trained teachers, the skills learnt continue to be applied throughout life. Whether it be a career in the arts or public speaking, job interviews, playing sport or meeting new people. These days, such skills are not only super important but mandatory for successful living.
Teamwork
A huge part of performing arts is collaborative and has an amazing impact on the ability to build positive, respectful working relationships with others. Students learn to have an awareness of others, whether it be of movements in dance, emotions in drama or listening in singing.
Supporting co-performers and positive re-enforcement is prominent throughout performing arts training.  Teamwork is an important skill, utilized throughout life.
Mental Focus
Performing Arts is proven to enhance focus in children of all ages.
The ability to focus is a key skill that can be applied to any project or career. Recent research has shown that participation in the arts improves children's abilities to concentrate and focus in other aspects of their lives, thus having a positive impact on success at school and beyond.
Fun
One of the biggest reasons why the performing arts are so popular – because it is FUN! Fun is crucial for child development, creativity and success.  Fun is key to experiencing a happy, successful life.
In the words of Albert Einstein, 'creativity is intelligence having fun.'
So, much more than just another after school activity.  Go on, give it a try.  You too will be amazed and delighted.