Bikes, scooters, and powered cars are everyone's favorite outdoor activity. Buy your little one of these amazing ride ons to enjoy this spring and summer. Not only will it be great fun, but it will keep your children active, healthy, and energetic. 
Why are Ride Ons good for kids? 
1| Keeps them physically active and energetic. 
2| It is a cardio workout that simultaneously kids' stamina.
3| A great bonding activity for families and friends. 
4| A great way to lose excess fat. 
5| Great emotional benefits like confidence and self trust.
Take into consideration when buying a ride on: 
– Your Budget

Setting a budget is always the first step when buying anything. It helps your searching process and narrows down your options. When you are down to 2 or 3 picks, we recommend having your child make the final decision. That will build up their confidence and self esteem. 

– The bike's weight

When buying a bike for a child under 11 years old, we recommend lighter bikes. They are easier to drive and to move around. So, make sure the bike's weight is good for your child. 

– Age and weight limits. 

Many parents tend to buy older bikes for younger children in order to "save up". However, we highly recommend you to buy one within the right age range. This way, whatever you buy will be more compatible with your child and it won't take less or more effort to enjoy riding it. 

– 2 wheels or 3 wheels? 

For beginners and little ones, a 3 wheel bike is much better. It ensures less falling accidents. You can also buy a 2 wheel and simply purchase training wheels and remove them later. 

– Any safety features?
Such features include a bell, brakes, and adjusted height seat and handlebars. Some bikes include other features such as night lights, baskets, and left and right signals. If not, you can always purchase them aside and upgrade your child's bike.
Capix Scooter is perfect for children from the age of 8 years old and above. The aluminum design makes it safe and durable. It is also easily stored in your home or the back of your car. It is super lightweight which makes carrying it to the park or when travelling super easy. The package includes a tool kit as well.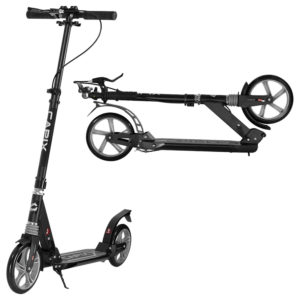 This adorable baby ride on is perfect for babies from 18 months old up to 36 months approximately. The cute character buggy makes it a fun ride for your baby. This ride on features a seat belt for added security, and a push handle that makes it enjoyable for you and your little one. In addition, it can be easily stored in the hood of your car to take it to the park or a long mall visit.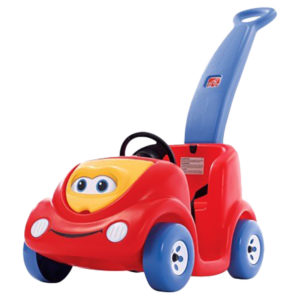 One of our favorite ride on toys is the Megastar City Coco Scooter. It is perfect for toddlers at the age of four years old. This scooter is battery operated. Recharging it take from 7 to 8 hours. So, if you are planning a visit to the park or a long walk with your little one, just plug it in the night before. Make sure not to over charge it and avoid draining the battery. This scooter features right and left indicators, a LED light, a comfortable seat with a back rest, and a power display to make charging it easier.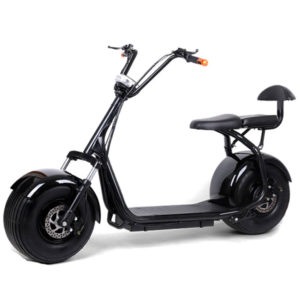 Kinderkraft's balance bike can be customized to your child's height as need be. You an adjust both the seat and handlebar along with the range of the seat without the need to rotate the whole frame. It is solid, durable, and lightweight. This bike is super safe and ensures maximum fun!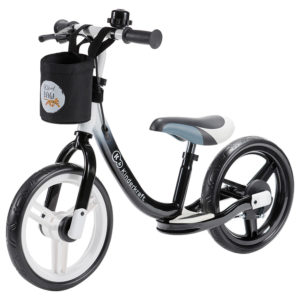 Fiat's E-scooter is a very convenient choice for ride on toys. It is durable, compact, and sturdy. This scooter features a LED display with all the information you need about power and battery. Recharging it takes from 3 to 4 hours tops. This is a super convenient and safe choice for your child from the age of 8 years old and above.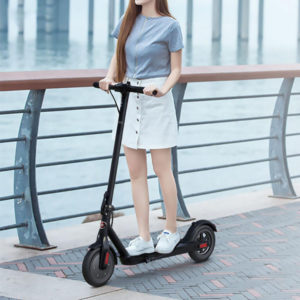 This classic steel mountain frame bike is perfect for children from the age of 6 years old and above. The V-brakes design provides secure stopping power to keep your kids safe while playing. It is safe, strong and durable for a worry-free riding experience.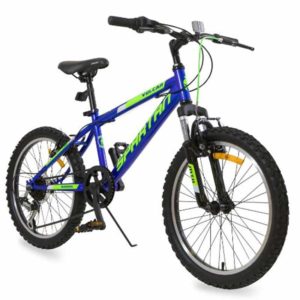 Feber Trike Evo Plus 3-in-1 is a long term investment. Your little one can use it from the age of 12 months and up to 5 years old. It can be a push baby ride on, a tricycle, and a chopper. This great ride on features a safety harness, a foot rest and a storage bag.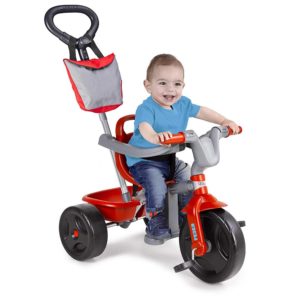 VIRO's electric scooter is perfect for children from the age of 5 years and older. It is designed with an easy thumb-control throttle and features a high visibility LED running lights for cool ground effect lighting. This scooter also features a hand-activated rear brake for optimum braking performance.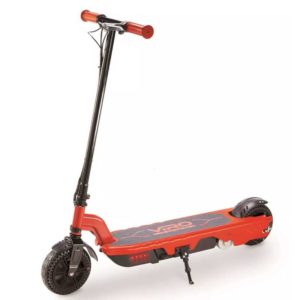 This ride on car is a top favorite for all children. Not only does it have a cool green design, but it also super safe and fun. The bucket seat is easily adjusted to make your child comfortable while playing. This ride on cart can take up to 50 Kgs, approximately up to 8 years old.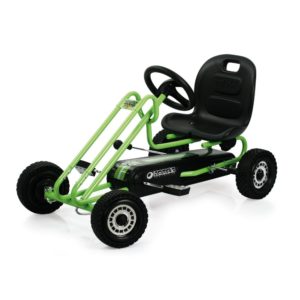 The Megastar Wheelie Drifter Trike is perfect for little boys who love ride ons! It can drift around at 360 degrees for maximum and safe rides. This one is suitable for both homes and outdoor gardens and parks. Charging it takes around 2 to 4 hours, and it features a screen and a key switch start.