Soup is the best comfort food ever. It's warm, delicious, and cozy. Starting a meal with a bowl of soup softens and warms tummies. Especially if you are fasting or on a diet. If you are a busy mum who cannot do without soup. Making it in the Nutricook Smart Pot will save you a lot of time and effort. Here are some delicious soup recipes you must try!
Why should soup be a part of your meal? 
– It warms the body and softens the stomach. 

– A great source of fluids to keep your body hydrated. 

– Soup has a great amount of healthy nutrients.

– It is a great way to get your kids to eat veggies. 

– Soups are high in vitamins, minerals, and fibers that both you and your family needs. 
Nutricook Smart Pot Soup Recipes
Chicken noodle soup
What you'll need:
– Shredded chicken, you can use leftovers. 

– Your choice of noodles.

– Your choice of vegetables – we prefer carrots, corn, celery, onions and garlic. 

– Chicken broth.

– Spices: garlic powder, salt, and pepper. 
Steps: 
– Make sure your chicken is boneless, skinless, and shredded or chopped. You can use leftovers if you have any. If not, you can use the Nutricook Smart Pot to cook the chicken first then shred or chop it.
– After cooking your chicken, throw in your veggies, chicken broth, and noodles. You can use any kind of noodle you like. 
– Add in the spices – but be careful if you are using salted broth. 
– Lock your smart pot correctly, and turn it on. Use the soup option, and set to medium cooking mode. You can use the quick release for venting.
Red veggie soup 
Ingredients:
– Diced onions, garlic, potatoes, carrots, and zucchini.
– A can of corn. 
– One can of crushed tomatoes. 
– 1 tablespoon tomato paste. 
– 1 Maggi vegetable cube, or powder. 
– Salt & pepper.
– Hot sauce (optional).  
Method: 
– First chop up your onions and garlic. Set your smart pot to sauté, add in a little oil and cook them for 2-3 minutes. 
– Add in your cubed vegetables and sauté them. The mix of cubed potatoes, carrots, zucchinis and corn is everyone's favorite. Feel free to add or remove whatever you want. 
– Once the vegetables get a little color, add in the crushed tomatoes, tomato paste, water, and Maggi vegetable cube. You can stir in the tomato paste and Maggi cube in a cup of hot water.
– Bring everything to a boil, then lock your smart pot and leave it for about 5 minutes. 
– This one is for the grown ups. Serve this comforting soup with a dash of hot sauce if you like it. The mix of red soup and a little spicy taste is just amazing and warming. 
You can also serve garlic toasted bread next to this soup. They make an amazing combo!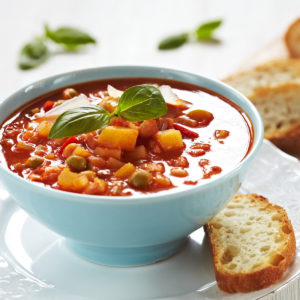 Broccoli cheddar soup
What you'll need:
– Unsalted butter.

– All purpose flour.

– Chopped onions.

– Broccoli florets, fresh or frozen. 

– Salt & pepper. 

– Milk. 

– Chicken broth

– Shredded cheddar cheese. 
Steps: 
– Use the sauté option on your Nutricook Smart Pot, add in the butter and onions. When your onions become transparent, stir in the flour. Then gradually add the milk and broth. This will create a delicious creamy texture. 
– Bring the mixture to boil for 2 minutes. Then, add in your broccoli and let it simmer until it's cooked. 
– You can leave the broccoli florets, or you can use a hand mixer to blend it all together. It is delicious both ways.
– Once your soup is ready, turn off your smart pot. And immediately add in the cheddar cheese. Don't forget to leave some for garnishing!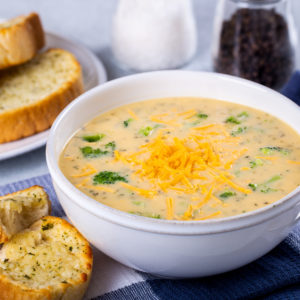 Creamy mushroom soup 
This soup recipe is similar to the one before. Start by sauteing the onions. Then add in flour, milk, and broth. Then, add in your chopped mushrooms and let them simmer till they cook through. Serve this soup to a side of toasted cheesy bread and garnish it with some parsley.