Traveling with a toddler is one of the most exciting adventures parents experience. During those adventures, you will get to explore new things and places with your toddler for the first time. Also, it is a great bonding activity to create amazing memories. However, traveling with a toddler can also have its challenges. Especially that your toddler will need a lot of care and attention. Therefore, we came up with the ultimate carry-on guide for your toddler.
The Ultimate Carry-On Guide For Your Toddler
Give your toddler a place to sit. 
If you are flying with a toddler, you will need to walk a lot throughout the airport. Starting with checking in, security checks, and much more. Your toddler will probably not stay in one place. Therefore, you need to provide them with a comfortable place to sit and remain next to you. And for that, we got two options for you. 
This little trolley is designated for toddlers' comfort and entertainment. When moving around the airport, it can be a fun ride for them to enjoy without straying away from you. The swivel wheels make it very easy to handle and pull. It also has a practical top-opening to prevent items from falling out. 
In addition, you turn this fun little ride into a comfy and luxurious travel bed. So if your toddler is tired, they can literally sleep anywhere with this awesome bedbox. It includes a mattress and side panels to keep them safe, and two sheets with decorative stickers. In short words, you can turn any standard economy seat into a first class seat for your little one.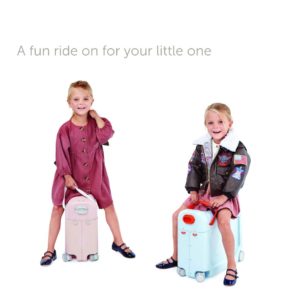 Number two: a compact travel stroller. 
A travel stroller is very important for easy travels for both you and your toddler. Why pick a travel stroller? Because they come in sizes that can easily fit into plane cabinets. So you can have it with you at all times. It is also a perfect option for toddlers to rest, sit, and sleep whenever they need. We love the BABYZEN YOYO travel strollers because they meet all your needs. They are compact, lightweight, comfortable, and easy to fold or unfold.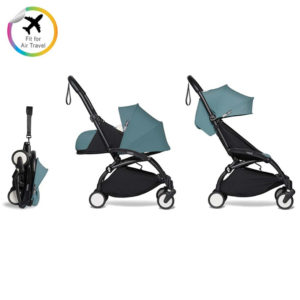 Don't forget about food. 
Traveling with a hungry toddler means endless tantrums – which will be so hard. Therefore, it is important to prepare well for snacks and meals. Also, try to stick to the meal times your toddler is used to to avoid tantrums. We got you three tips for an easy and safe meal time when traveling. 
First, use Milton's Combi Steriliser to keep everything clean and sanitized. This goes especially for feeding bottles. This sterilizer features a unique safety vent for better & faster sterilization. It is ideal for all feeding essentials as well as breastfeeding items such as breast pumps. So, you can do anything feeding related and still have everything clean and sanitized. If you are in the airport and no microwave is available. You can order a cup of hot water from any coffee place and you will be good to go.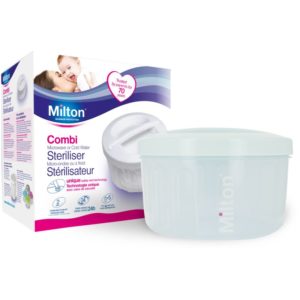 Second, make sure you pack healthy snacks for a quick meal on the go. You can either get healthy prepackaged snacks. Or you can pack your own from home using Munchkin's Stainless Steel Snack Catcher. This will ensure a fresh and healthy snack for anytime and anywhere.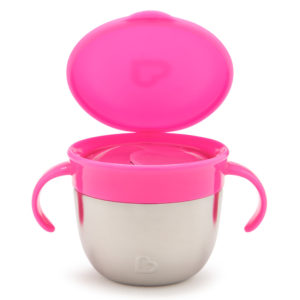 Finally, do not forget to keep your toddler's clothes clean by using bibs or feeding clothes. We advise you to use disposable travel baby bibs to achieve that. Also, always keep disinfecting wipes close to you for quick cleanings.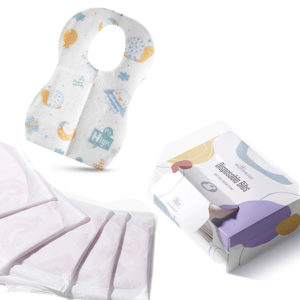 Your toddler's comfort is a priority. 
Think of it this way, if your toddler is comfy and happy, you will be too. And toddlers tend to be cranky when they get a dirty diaper on. Therefore, make sure to change your little one's diaper whenever he or she needs, and as quickly as possible. Some mums find it a horrible task to change diapers at airports. But when you are well prepared, it will be easy. 
Make sure you have everything you need in your toddler's diaper bag. It should have a changing mat, extra diapers, wipes, diaper rash cream, cotton towels, and a fresh change of clothes. Having all of those in one bag that is easy to grab will make this task easier and faster. 
In addition to that, make sure to pick comfortable clothes for the plane ride. Cotton jammies are the best. Also, get your child's favorite blanket and toys to help them get some sleep on the plane. 
Keep plane entertainment in mind.
Flying in a plane, no matter how short or long, can make toddlers get a little cranky. Being trapped in a seat for hours might be a recipe for a tantrum. That is why it is important to have toys and games to keep your toddler entertained on the plane. 
In order to ensure a calm and peaceful flight, try to use your toddler's energy while waiting for boarding. Allow your little ones to play, run, jump, and use all their physical energy before boarding on the plane. Do not force your toddler to sit and not move, because that will happen on its own once you are on the plane. 
Once you board the plane and sit down, bring out some fun and new toys for your toddler. Having a brand new toy will keep your toddler busy for hours. Just make sure you open it and check if it needs any batteries before leaving the house. We love Melissa & Doug Water Wow Pads. 
Also, watching movies and shows is fun during a plane ride. So get a tablet and download all your toddler's favorites. Remember to get them their own headphones so you would have a calm flight yourself.