Ever heard of a diaper pail or a diaper disposal? Did you debate yourself on whether you need it or not? Well, diaper pails are one of the best essentials for new mums. They make diaper changing easier and less messy. We got everything you need to know about diaper pails here! 
What are diaper pails? 
Many mums, especially new mums, think that diapers are simply disposed in the trash. However, throwing a dirty diaper directly into the trash is not the most hygienic or eco-friendly way to dispose of it. That is why using a diaper bin or a diaper pail is important. This simple yet essential accessory holds dirty diapers and filters the odors that come with them until you can take the trash out. They are made either of metal or plastic and come in different shapes and sizes. 
Why do I need a diaper pail? 
1| To keep bad odors contained rather than spreading all over your home.
2| Most of them have built-in childproofed locks. So, they keep dirty diapers away from children's reach. 
3| It saves time. With a diaper pail you only need to take the trash out once a day. Not every time you change your little baby's diaper. 
Our Favorite Diaper Pails Here at Mumzworld 
This new and stylish Tommee Tippee Twist & Click nappy disposal system is simply amazing. It works on wrapping each and every diaper individually to safely seal away germs and odors. If you have a newborn baby, you will need to change diapers to 12 times a day – or more! So, instead of taking the trash 12 times a day, you can use this amazing diaper pail while also keeping odors and germs away from your home. This diaper pail holds up to 20 dirty diapers to save you plenty of trips to the outside trash bin. Also, this diaper bin is powered by Sangenic to guarantee protection against all odors and germs. It works wonderfully well because it is made of antibacterial multi-layer film which kills 99% of germs.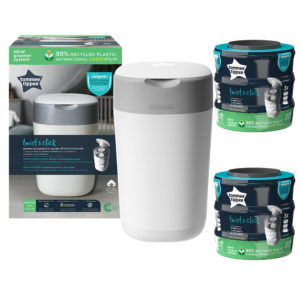 The Bumble & Bird Odourless Diaper Pail is wonderful to keep your home clean from all diaper related smells, germs, or bacteria. It features a great sealing system and an odor-stop system which makes it perfect for everyday life. It has the capacity of 25 diapers and can be easily used with one hand. What we love about this diaper bin, is that it has zero refill cost. Why? Because it is compatible with any standard plastic bag you have. Trust us, your newborn baby's nursery won't be complete without it.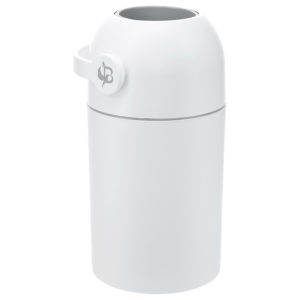 Enjoy the odorless and airtight technology with DiaperChamp Classic diaper pail. The compact and trendy design makes it a perfect addition to every newborn baby's nursery. This diaper bin features a one side open to dispose diapers along with a zero cost refill. Simply use any available plastic bag you got at home. Mums love the DiaperChamp ONE as it holds up to 40 diapers without any smell leaking.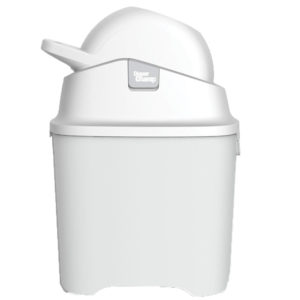 We love this BabyTrend Diaper Champ Deluxe! We also love its multi-layer odor-barrier bags. This offers great odor control, and it is super easy to use. You can use the Diaper Champ Refill for maximum odor control or simply use any 13 gallon trash bag. You will not need to assemble it either as it comes assembled and ready to be used.
Munchkin introduces a new and golden standard when it comes to diaper pails. It makes sure you enjoy a combination of great odor control and a modern sleek aesthetic design. The Step diaper pail works with both refill rings and snap, seal and toss refill bags, the choice is yours! To lock in the stink, the pail relies on the odor busting duo of lavender scented Arm and Hammer baking soda and patented self-sealing technology, sealing in odors as the lid closes. In addition to that, each Step comes with a Munchkin lavender scented Puck, which continuously absorbs odors while the pail is not in use and keeps your nursery smelling sweet. This is the perfect pail to have in your Home, and also works as a great registry item! Take a deep breath, because the Munchkin Step Diaper Pail has arrived.