One of the best things about living in Dubai is that it is a comfortable place to travel from. Both it's geographical location as well as an abundance of travel services provided by premium airlines based in the GCC makes it easy for the adventurous mum to once in a while experience a healthy change of environment.
Here at Mumzworld, we don't think that being a mum to toddlers should make travelling significantly more difficult. Naturally travelling as a parent will be different from travelling as you knew it pre-babies, but we can think of a few items that will cushion the experience.
Heading somewhere near(ish) by car, such as the lush Omani Jebel Akhdar? During the hot and sunny hours of the day, the child seat might heat up and become uncomfortable – if not dangerously hot – for your little one. The Hauck Cool Me seat cover will prevent that, and due to its rubber band fittings, it fits almost all child seat models.
2. Once you're on the go with your baby in a cushy child carrier, you need to provide sunshade, and depending on the destination, perhaps even some rain protection too. The Little Life Child Carrier Sunshade has panels made from breathable mesh that allows for proper airflow within the concealed area.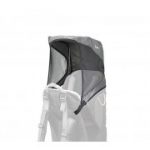 As unglamorous as the last tip might be, it might be the one that you will appreciate the most. Road trips mean many toilet stops at remote gas stations – if nothing else for the coffee chugging driver mum. You'll need to carry toilet seat covers – yes, we told you this potential lifesaver wasn't a glam one.