Majori Marcon is a mum of 2 small boys and a well-seasoned traveler. She understands that traveling with kids can be such a challenge, and as a mum, she always comes prepared. These are Majori's favorite must-have travel essentials for mums. Learn here all about them! 
Top 5 Must-Have Travel Essentials
3| LEGO and Duplo toys.
When traveling with kids via cars, planes, or any other travel means – they will need entertainment. And according to Majori, there is nothing that beats LEGO and Duplo toys to keep children occupied and entertained during a road trip or a plane flight. What's great about those toys is that they offer endless hours of fun, as well as they are small – so they can be easily packed in a carry on or a backpack.
Check out LEGO toys here at Mumzworld!
4|  A good travel diaper bag.
As a mum traveling with a child or a newborn baby, you need quick and easy access to certain things like a changing mat, diapers, wipes, or a water bottle. Therefore, you need a good travel diaper bag that fits all and keeps everything you need at the reach of your hand. TWELVElittle diaper bags have everything mums look for in a diaper bag. The material is strong and long lasting. It has plenty of pockets and compartments to fit everything you need from feeding bottles, water bottles, toys, and much more. Also, you can easily clean them with wet wipes, and they will be as good as new.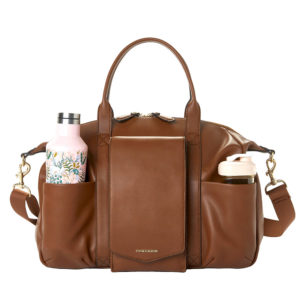 5| Snacks. 
Last, but absolutely not least, one of the must-have travel essentials are travel snacks. Children can get hungry at the most unexpected times, like when boarding a plane where there is no chance for you to run and get them a snack. That is why it is very important to have a quick snack at hand. This way your little one will have something to much on and you will avoid a hunger tantrum at any inconvenient time. Such snacks can be:
Cookies

Crackers

Raw snack bars

Popcorn 

Healthy chips 

Fruit sauce 

Dried fruits