Rachel O'Leary – Nursery Manager
Sensory play is any activity that stimulates young children's senses. Children use their senses to enable them to explore the world around them, from touching to tasting, smelling, hearing and seeing, by encouraging the development of these senses through organised and varying play activities, we can better ensure that the young children in our lives are presented with ample opportunity to engage their natural curiosity. Research also shows that promoting use of the senses through 'sensory play' plays an important part in the development of the brain—by helping to build nerve connections in the brain's pathways. Sensory play is a great opportunity to allow children to overcome boundaries whilst having fun. For example, some children may be hesitant to eat foods with a particular texture, for example wet/soft foods such as pastas. By allowing children to explore and play with similar textured foods, such as spaghetti, we provide them with the means to make their own discoveries and familiarities, eventually overcoming any reservations the child may have been experiencing initially.
Sensory activities at Caterpillar
Each month the learning topic at nursery changes, largely according to the interests of the children as they grow.     Sensory time is especially important for our toddlers and younger children, who will be experiencing many new senses for the first time during their time spent at nursery.  The staff will set up the sensory trays for the children, which will be changed a minimum of twice per week, according to the learning theme. The sensory trays are    always available to the children throughout the day, to encourage them to  engage in independent play and make their own choices when it comes to  learning and development.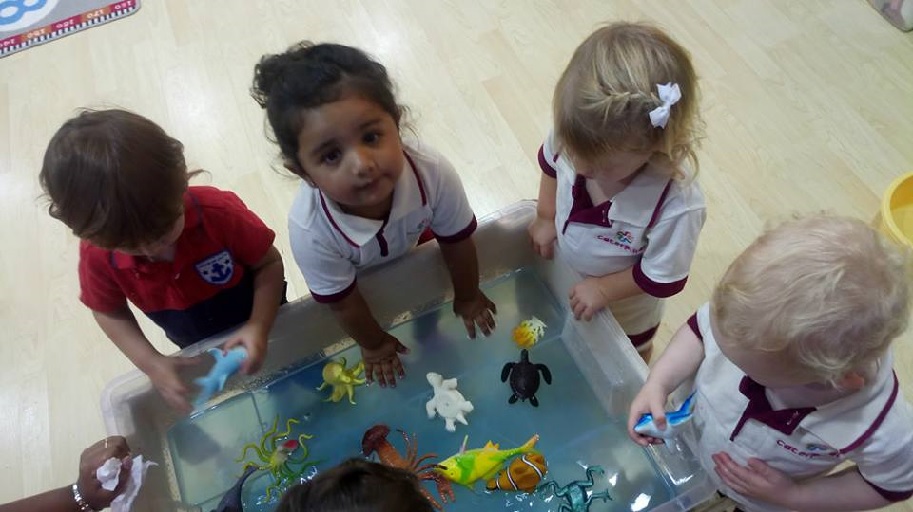 There are so many easy DIY activities that parents can do with their children at home, many of which can be done with readily available and cost effective house-hold items. Here are some suggestions below:
Coloured, cooked spaghetti
Home-made play dough
Shaving foam activities
Flavoured/coloured ice cube play
Jelly play