In time for back to school, buying eco-friendly products is more preferred for so many reasons. So, Are you ready for more eco-friendly back to school suitable goodness? We have got plenty more of where that came from!
Why Go Eco-Friendly? 
1| Protect the planet.
2| Teach children the importance of protecting the planet.
3| eco-friendly products are durable and lasts longer.
4| Provide your kids with a healthier life style.
5| Eco-friendly products are toxic free, so it keeps your little ones safe.
The Petit Collage eco-friendly kiddie backpacks
Those eco-friendly backpacks gives us butterflies in our tummies. Rest assured your young ones will feel the same way. Aside from it's cute looks, this backpack is BPA, PVC, and Phthalate-free – i.e. no nasties. Not into butterflies? How about a friendly shark? We are hooked ever since Baby Shark Dance and Sharks Tale. If your little ones haven't seen it yet then there is an idea for a movie night in. 
Ladybugs are meant to be bringing good luck. This one sure does wink wink. It's also really kind to the planet. It is made out of biodegradable material, and exceeds all EU and US safety standards which feels reassuring for us mums.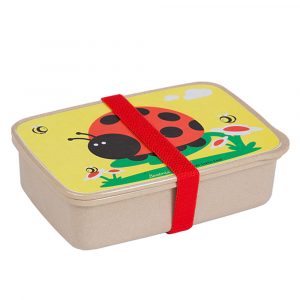 Like a set of Russian matryoshka dolls, this is a three-piece nesting bento box set, in slick stainless steel. The Giant, which is the largest bento in the ECO lunchbox collection, is a really useful piece planet-friendly, non-toxic lunch hardware designed to handle everything including grown up portion sizes.
Eco-Friendly Water Bottles 
Hydration is key for growing little humans and especially so in our climate here in the UAE. Carrying a water bottle around makes it easy to remember to take a sip every now and then. A Mum tip – flavor the water with some frozen berries and a mint leaf or a slice of lemon.