Packing school lunches can get a little challenging. Especially that you are doing it daily, so you might feel you are running out of ideas. And while hot lunches are yummy and good for our kids. Cold lunches like salads or sandwiches are just as good. And they are even better on hot days – especially if you live in Dubai. Therefore, we got 9 cold lunch ideas for you to pack for your little one's school. 
Easy to make cold lunch ideas for school 
1| Tortilla wraps
Tortilla wraps are a wonderful alternative to bread. They are just as filling, only less calories, fats, and carbs. Whole wheat tortillas are filled with fibers, which will help school kids maintain a healthy weight. They are one of the best cold lunch ideas for school. 
When it comes to making tortilla wraps, the sky's the limit! You can use any fillings you want, sweet or savory, and pack it for your kids' lunch. Here are some ideas for yummy tortilla wraps: 
– Peanut butter and jelly. 

– Sliced turkey with lettuce and mayo. 

– Spreadable Cheese, like Puke, with olives or thin cucumber slices. 

– Peanut butter, cinnamon, and thin apple slices. 

– Nutella with bananas and strawberries. 

– Avocado and eggs. 

– Labneh with olives, tomatoes, za'atar, and olive oil.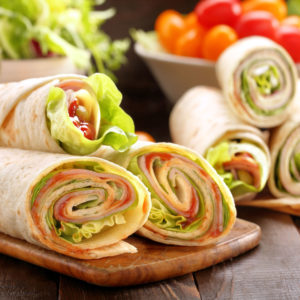 2| Pasta salad 
Kids love pasta in all shapes, sizes, and recipes. The best thing about pasta salads is that you can customize them whichever way you want. Our favorite pastas for salads are elbow macaroni, fusilli, farfalle, or penne. You can add in any kinds of vegetables you like too. Such as bell peppers, carrots, and cherry tomatoes. Also, adding in red kidney beans or chickpeas will add in more nutrients while also making it more delicious and  filling. Finally, a good pasta salad needs a good dressing. And there are plenty of dressing options to choose from. You stick with olive oil, lemon, and dried oregano. You can add in mayo or Greek yogurt for a creamy dressing. And you add in some balsamic vinegar for a sweet and tangy flavor. All of these choices depend on what your child prefers to eat.
Insider tip: this is a great lunch option for picky eaters.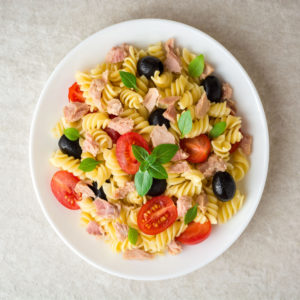 3| Anything tuna 
Tuna, canned or fresh, is very important and beneficial for kids. Why? Because it is a great and rich source of vitamins and protein, and it boosts metabolism. Meaning it prevents unhealthy weight gain and obesity. All of this contributes to a stronger and healthier immune system. 
As for packing tuna as a school lunch, there are plenty of ways to do so. You can make a tuna salad, or turn it into a tuna salad sandwich. Or you can make tuna with pasta. The most classic tuna salad ingredients are canned tuna – canned in water not oil. Mixed with celery, green bell peppers, red onions, lemon juice, and mayo. Of course, you add or remove any ingredients you want to make it a perfect cold lunch for your kids.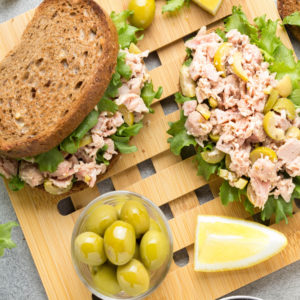 4| Hummus and veggie sticks 
This is one of the most simple, classic, fun, delicious, and nutritious cold lunch ideas. That is because all you need is hummus as a dip, and veggie sticks to dip it in. Surely, you can buy hummus from any place, and it can be 100% fresh and organic. However, nothing beats homemade. To make the perfect hummus dip, you will need: 
– 1 and a half cups of chickpeas. 

– Juice of 1 large lemon. 

– ¼ cup of tahini. 

– 1 small minced garlic clove.

– 2 tablespoons of olive oil. 

– ½ teaspoon of ground cumin and salt. 

– 3 tablespoons of water, or canned chickpea water (aquafaba)
Now, all you have to do is throw all the ingredients in a food processor. The result will be a thick and creamy flavorful dip. Taste it, see if it needs extra salt, cumin, or anything else. If the consistency is too rough, add in more water. 
Finally, pack this yummy dip into a leakproof container, with your choice of veggie sticks. Such as carrots, cucumbers, bell peppers, or celery.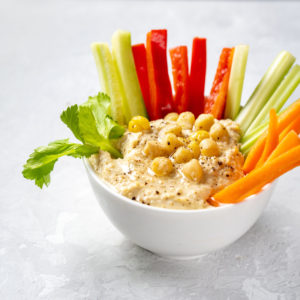 5| Egg salad sandwich 
Just as tuna, eggs are an important source of protein for kids. And we must include eggs regularly in their diet. A classic egg salad recipe includes hard boiled eggs, mayo, mustard, salt, and pepper. And as always, you can customize it to your kid's liking any way you want. Some mums like to add bacon, olives, sour cream, or labneh. That is entirely up to you. In addition, you can pack this egg salad as a dip, or something to eat with a fork. Or you can turn it into a sandwich. All you need is your choice of bread, we prefer whole wheat toast, and some lettuce. Finally, make sure to pack fresh mint gum for your kids – as they will need it after the egg salad.
6| Broccoli salad 
This is one of the healthiest cold lunch ideas ever. All you need is broccoli, shredded cheddar cheese, low fat bacon, dried cranberries, salted sunflower seeds, and red onions. As for the dressing, you will need mayo, sour cream, white vinegar, brown sugar, salt, and pepper. Toss the main ingredients in a bowl, and mix the dressing in a separate one. Make sure it is well combined, then add it to your salad.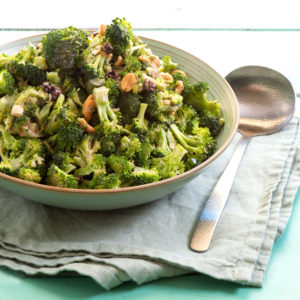 7| Green Goddess Dip 
Finally, this dip blew up on TikTok as one of the best dips ever. @bakedbymelissa came up with these amazing, fresh, and delicious dip that we think is one of the best cold lunch ideas. The main veggies for this dip are: 
– Cabbage.

– Cucumber. 

– Chives. 

– Spring onions. 
As for the dressing, you will need: 
– Garlic. 

– Shallots. 

– Lemon juice. 

– Chives.

– Olive Oil.

– Rice vinegar.

– Walnuts and cashews. 

– Spinach. 

– Nutritional yeast.

– Salt 

– Optional: avocados or jalapenos.
Chop the vegetables really finely, and throw them all in a bowl. As for the dressing, throw everything in a blender, and blend well until you get a creamy smooth texture. Mix in the dressing, and serve it with chips. We promise you, your kids will LOVE this delicious salad dip.