Baby bath time is a time to bond and connect with your baby. As your baby get older, this time becomes more fun and joyful for the both of you. Surely you know that there are many big baby bath essentials that you cannot do without. But what about bath time accessories? That's what you will find here. 
What baby bath accessories do I need? 
Head rinsers are great when you want to wash off the foam from your baby's hair. SkipHop offers this amazing waterfall rinser which features soft lip cushions to suit your baby's sensitive head. In addition, this new innovative rinser features interior fins that channel a steady flow of water to ensure quick cry-free rinses. And a soft rubber lip fits snuggly to the forehead, preventing water from getting in eyes. Also, The easy grip handle allows you to hold the rinser in one hand and baby in the other.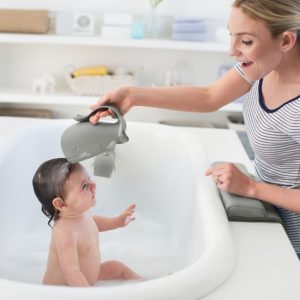 Bath time is not complete without toys! And to avoid the hassle of toys all over your bathroom, you need a good bath organizer. This organizer has a mesh front and bottom to allow toys to air dry quickly. You can hang it in any corner in your bathroom without any effort. Your baby will be super excited when he or she takes a glimpse at their favorite toys waiting for them near the bath tub.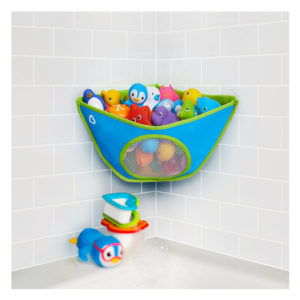 Baby bath seats are a must have. They provides comfort and stability for babies during their bath time. Angelcare's bath seat is super light weight. Also, it is made of high quality and durable plastic. In addition, you don't have to worry if it slips while bathing your baby. Because it features four extra strong suction cups which allow the seat to hold in place.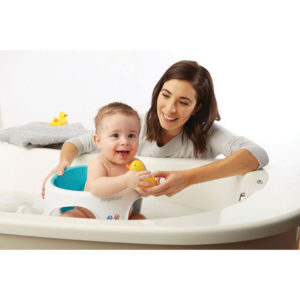 This one is for you, mum. We bet that you have experience or heard of the pains you get during bath time. That is why one of the top bath time accessories is this kneeler. This is a convenient bath kneeler which brings you the comfort you need while bathing your baby. It is made of durable, water-resistant material making it a durable and comfy solution for back and joint pains during baby bath time.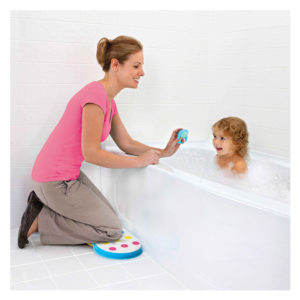 Most new mums are afraid of shampoo or foam getting into their little ones' eyes. And that is why we have shampoo repellent caps. Not only are they made of high quality silicone that is soft and flexible. But they are also BPA free. Also, they are lightweight, comfortable, and can be adjust for a perfect fit. Those caps truly give a comfortable and safe fit around your baby's head.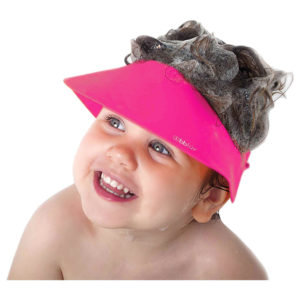 Don't forget bath time safety! 
Bath time should be both fun and safe. That is why it is so important to get the right safety essentials to protect you and your little one. There are plenty of bath safety essentials to check water temperatures, avoid slipping incidents, protect their eyes from foam, and keep the water clean and filtered.
You can also check more safety essentials here.
In case you need bath time essentials: 
There are plenty of basic bath essentials that are necessary for every bath time and they are:
1| Bath tub
2| towels and robes
3| Shampoo, shower gel, and conditioner
4| Bath time toys
5| A Sponge
The Right Height Bath Tub offers ultimate comfort and convenience for you and your baby. This multi use tub offers a contoured newborn bath support, spacious toddler tub, and extended use features such as a tub side seat and stepstool.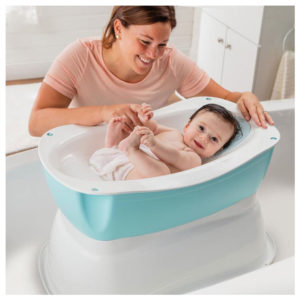 This cozy hooded towel in our magical unicorn print is sure to make bath time a delight!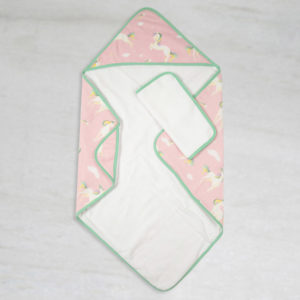 These NUK Bath Sponges are made from natural materials. Wash them carefully before first use and also rinse the sponge after each use. The NUK Bath Sponge will be soft and gentle on your baby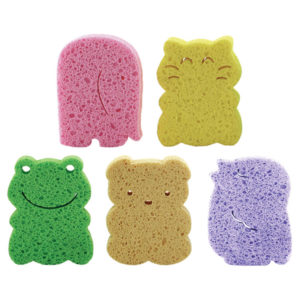 everyone's favorite shark and friends are now available as bath sprinklers! Based on Nickelodeon's new animated preschool series, Baby Shark's Big Show!, the Baby Shark bath sprayer is activated by water for bath time fun. Simply place it in a bathtub or pool and Baby Shark will float and spray water. This bath toy helps develop curiosity and imagination while the little ones play with Baby Shark.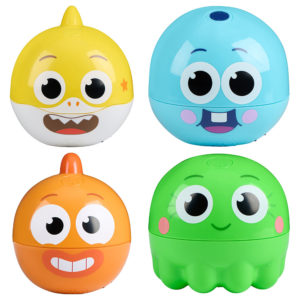 The bundle is a perfect gift for babies as it combines body wash, lotion and shampoo. Products are a pride of Baby Dove hence you will not get worried with your little ones' sensitive scalp and skin. They all goes beyond mildness to help keep your baby's skin, hair and scalp healthy.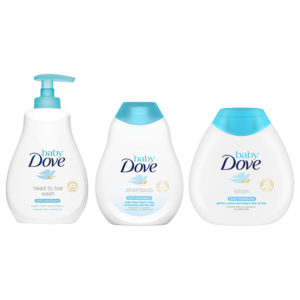 Check out more bath time essentials here