Covid-19, distant learning, homeschooling, and social distance anxiety – This past year has been difficult on all mums trying to get it all done. So, In hopes for a better year, and as a thank you for everything those super mums did let us give them a special Valentine's day that they will never forget. 
Handmade Valentine's day
All mummies agree that the most special gifts are those made with love specially for them. Here are some ideas mums will absolutely love:
1| Care Package
Prepare a package from scratch. Get a cute basket and fill it with her favorite stuff like coffee capsules, face masks, candies, body care products, or anything else. Wrap it with see-through paper and a cute pink ribbon. And don't forget the gift card.
2| Custom Scrapbook
Collect your favorite memories and pictures and plan a scrapbook with all those special memories. Print out a calendar and mark important dates like birthdays and anniversaries. Make sure to decorate it, add inside jokes, and put much love and hearts into it!
3| A romantic night in
Most new mums barely get any time for themselves or for a date night. Save February 14 for a date nigh in, and bring back the spark. Here's a check list to get it all right:
– Hire a nanny or ask someone to babysit.
– Cook a fancy meal, or cheat and order in – just make it fancy.
– Decorate the place with flowers, red balloons, and many many candles.
You can also turn it into a dinner-movie night. Pick the movie you want to watch, and the right spot at your home and use these products to have the perfect night:
Finish the night with the perfect gift. Here are a few suggestions: 
Vouchers and Gift Cards
The past year, everyone leaned towards online shopping more than ever. Instead of buying the wrong gift, get her a gift card and let her do the shopping! You can purchase Mumzworld's gift certificate from here.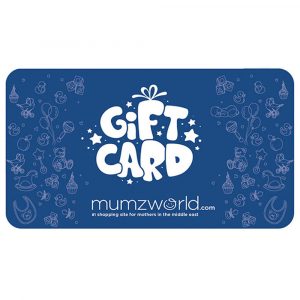 Remind her every time she drinks coffee or tea that you love her forever. It is the least we can do for our mums!
Make mums' lives easier this Valentine's with gadgets and home essentials like Nutricook's air fryer. Not only does it prepare a meal faster, but it also keeps all the nutritious for a healthy meal.
Blooming Blossom maternity pillows are ideal for finding a comfortable sleeping or resting position during pregnancy. If you want to buy a pregnant mum a pregnancy pillow this valentine, this is the best!
Most mums forget to care about themselves while caring for everyone else. Remind her to care for herself as well with this kit which incudes a toner, serum, gel, and sleep mask.
Valera introduces this hot air turbo styler for amazing hairstyles in no time. Not only is it easy to use, but it is so light you can take it everywhere.