With Halloween fast approaching, here at Mumzworld, we have put together a list of easy to prepare healthy Halloween treats which are loved by kids and adult alike. Not only delicious but fabulously ghoulish, these will certainly have your guest screaming for joy.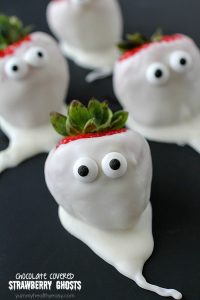 You'll need: 
–  a large bowl of strawberries with the stalks left on

–  white chocolate

–  candy eyes

–  parchment / wax paper
Instructions:
Set out the parchment on a tray. Melt the chocolate in a bowl and then dip the strawberries in one at a time. As you lay them onto the parchment drag some of the chocolate on the bottom so it makes a ghost's tail. Place the eyes on the front of the strawberry and leave to harden. Voila!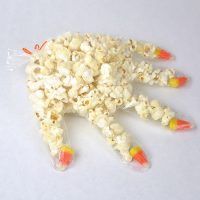 You'll need:
–  Clear disposable gloves

–  Popcorn

–  Twine or string

–  Candy corn (optional)
Instructions:
This Halloween treat is probably one of the easiest of all to create! Simply fill each disposable glove with popcorn until full, leaving a little space at the bottom, and then tie it up using the twine. As an option, you can also pop a piece of candy corn into each finger and thumb before filling the glove with the popcorn to create some fingernails. This is a great and healthy Halloween treat.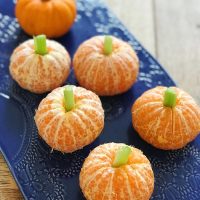 You'll need :
–  Satsumas (a handful is fine)

–  Celery stalks
Instructions:
This is yet another super easy and healthy Halloween treat. Simply peel the satsuma, removing as much of the white pith as possible. Slice the celery stalk into 1-2 inch pieces and insert into the peeled satsuma so it resembles a pumpkin with green stalk.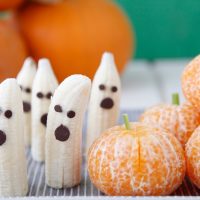 You'll need:
–  Bananas (3-4 is fine)
–  Popsicle Sticks
–  Chocolate chips
Instructions:
Lastly, and this is one of our favorite healthy Halloween treats. It is yet another simple yet effective healthy Halloween treat. All you have to do is peel the banana and slice in half at an angle. Insert a popsicle stick on into the sliced bottom of the banana and then gently push two chocolate chips about two-thirds of the way up onto the banana to make 'eyes' and if you wish, add an extra chocolate chip mouth too.