We Rock the Spectrum Kid's Gym Dubai, part of an American "play with purpose" franchise with playgrounds across the world, won the Highly Commended Sports Experience recognition at the Time Out UAE Kids Awards, a publication that is widely known as families' intelligent guide to parenting. In addition, the gym was awarded Best Party Venue in the emirate by Mother, Baby & Child magazine, one of the biggest parenting magazines in Dubai.
Behind We Rock the Spectrum, the gym that is changing the face of sensory edutainment in Dubai, is Dr. Nashila Farrah Jaffer. A mum of two girls, the chiropractor's dreams and goals for the venue stem from a deep belief in children's potential, including those with developmental delays of all types.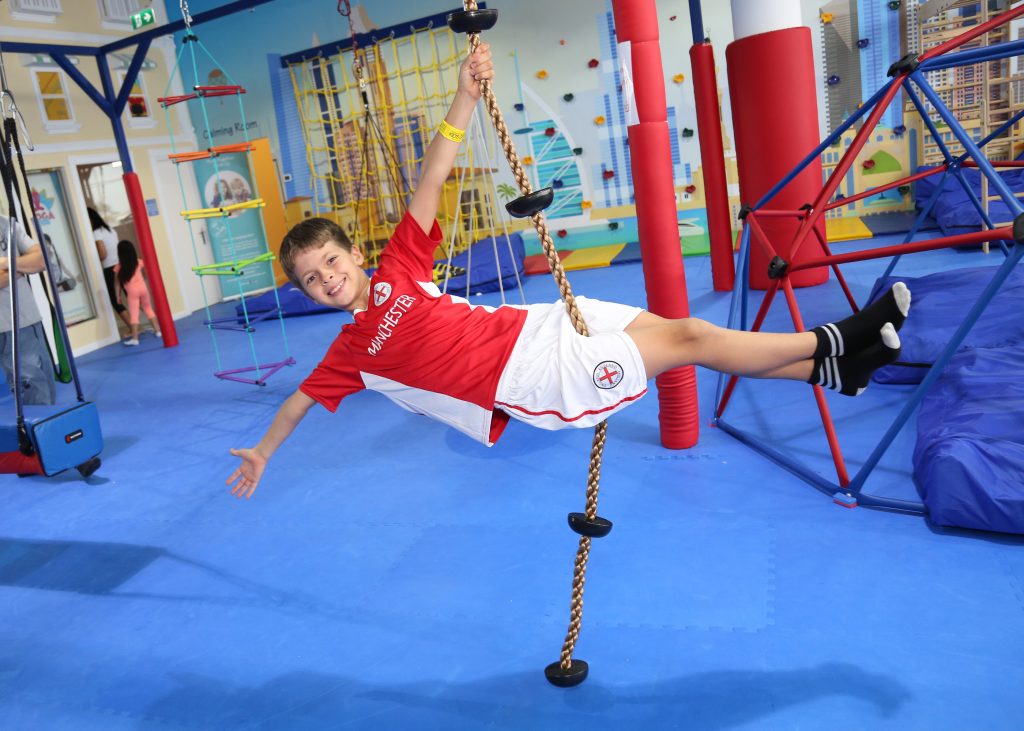 "I have been in the medical practice for 18 years now and, over the years, I have seen more and more cases of children with developmental delays such as gross motor and postural weakness, in addition to back pain in very young age groups," says Dr. Jaffer.
"I believe that the reason for this is the sedentary lifestyle that we are leading compared to, say, 15 years ago when iPads and smart phones didn't exist. In the past, children led more active lifestyles, so kicking a football around or playing in the garden were part of daily life. Nowadays, they go to school from such an early age and have regular routines when they should really be actively learning through movement," she adds.
Movement, Dr. Jaffer highlights, is essential for the development of children's neurological system, as 90% of stimulation to the brain comes from movement of the spine.
"Being a mother myself, I know how important it is for my children to get active every single day. Thankfully, Dubai's parks are a fantastic way to keep children moving, encouraging a healthy lifestyle during winter months. However, it is not the easiest task to find things to do during the hot summer," says Dr. Jaffer.
"So, when I came across We Rock the Spectrum Kid's Gym, I thought it would be perfect for Dubai as an indoor playground where children can fulfil their sensory and motor development needs while having fun. I call the concept 'Play with a Purpose'," she adds.
In 2017, Dr. Jaffer launched the flagship gym in Jumeirah, and it garnered an overwhelmingly positive response from parents. We Rock the Spectrum Kids' Gym had finally catered to the needs of many mums, ones who longed for such a facility where their children could work out and have fun at the same time.
Parents were also happy to see an extensive list of activities on offer at the gym, which is the first of its kind in the UAE.
"We have Open Play, where you can come with your child at any time of the day, just like a regular gym, so you don't need to book in advance – just show up. We encourage parents to play with their children, but also have a Drop 'n' Shop option where we can supervise and care for your child for an hour or two," says Dr. Jaffer.
"We have kids' fitness, dance and drama classes and science workshops. Plus, birthday parties, a coffee shop and free Wi-Fi. We also work very closely with occupational, speech & language therapists and child experts who offer free monthly workshops at the gym to help educate parents on child development, called the Children's Wellbeing Series" she explains.
The gym's parties have been among its most successful offerings, with parents bringing in their children for themed events where they can play with friends in a colourful environment with plenty of activities to keep them entertained.
"In a day and age where electronics are so readily available, it is important for children to get into good habits early on and understand that movement is an essential part of an active, healthy lifestyle. Just as adults go to the gym and exercise to keep fit, the same should be applicable to children. If we can encourage the importance of exercise from a young age, we will avoid health problems later on in life," she adds.
At We Rock The Spectrum Kid's Gym, which follows the same guidelines as the international franchise, there are ten pieces of equipment specifically designed to promote sensory stimulation, boosting kids' development as they play. This is in addition to a Calming Room where they can relax after their energetic session.
"We Rock the Spectrum Kid's Gym welcomes children as young as one year old. There are swings to help with spatial awareness and movement. Plus, soft play toys, role play, and arts and crafts to bolster fine motor skills, as well as social skills through interacting with other little ones. From birth to the age of five, a child's brain develops more quickly than at any other time in their life," says Dr. Jaffer.
"Scientific research has made it clear that the quality of a child's experiences in the first few years of their life helps shape how the brain develops. Therefore, I would encourage movement and activity as early on as possible," she advises.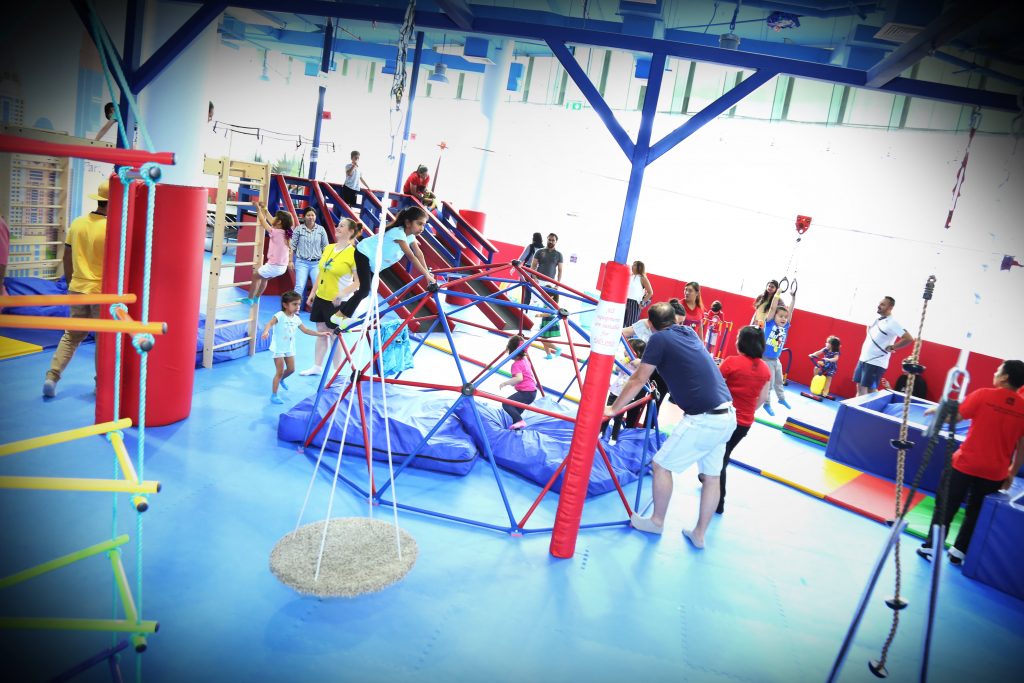 We Rock the Spectrum's equipment is also unique, with each and every piece serving a different purpose.
"There are ten pieces of equipment that can be found in every We Rock the Spectrum Kid's Gym. These specialised pieces are all designed to stimulate children's neurological system. For example, the climbing apparatus enhances body awareness and scheme, motor planning and bilateral coordination. The child's body weight, combined with gravity, provides additional proprioceptive feedback to the joints, helping them coordinate their movement," says Dr. Jaffer.
The bolster swing provides a side-to-side motion, which aids motor planning and sequencing activity. As for the trampoline, it builds lower body strength and helps teach balance, hence providing a full body workout.
"The zip line, which is by far the most popular piece of equipment in the gym, is a great way to build upper extremity strength and muscle endurance. It also enhances the child's ability to integrate and tolerate movement and boosts self-confidence as children challenge themselves to hold on long enough to get to the crash pit at the other end," says Dr. Jaffer.
The zip line is one of many ways through which children work out without taking part in rigorous sports activity which can be unappealing to some. For example, children on the autism spectrum, to whom the gym also caters.
"The equipment found at We Rock The Spectrum Kid's Gyms, including our Dubai branch, is similar to that which is used in occupational therapy offices to help children on the spectrum, or others, who experience sensory processing difficulties. Statistics show that as many as one in six children experience sensory symptoms that could affect their everyday lives," says Dr. Jaffer.
The gym, an all-inclusive environment, is open to young ones of all ages and abilities to go and play, with the aim of ensuring that their time spent at the venue yields positive results.
"We encourage parents to come and play with their children as it helps parent-child bonding and promotes social interaction in a place where everyone is welcome. We know occupational therapy clinics tend to have long waiting lists, and can often be unaffordable, so we want parents to know that we're here to help," she adds,
Dr. Jaffer concludes: "The gym is fully inclusive as we encourage children of all abilities to learn, play and grow together in a safe environment, supervised by fully trained staff. We do not divide children into separate groups – all kids play together at We Rock the Spectrum Kid's Gym Dubai."