All babies love and need their parents to hold them between their arms. They love that because it makes them feel safer and closer to their mums and dads. But carrying your baby for a long while can be exhausting for you. It can hurt your arms or legs. That is why many parents and experts recommend using baby carriers. Not only do they keep your arms and back rested, but they keep your baby in the right position protected and close to you. 
And because baby carriers are so good for you and your baby, we prepared the top 10 best selling baby carriers here at Mumzworld for you to pick from. 
1| BABYBJORN – Baby 3D Mesh Carrier
Baby Carrier One Air in airy 3D mesh is designed to make baby wearing much more comfortable. The cool mesh fabric has many popular qualities. It's soft and breathable, and it's also durable and dries quickly after washing. This baby carrier offers you closeness to your child while keeping your hands free.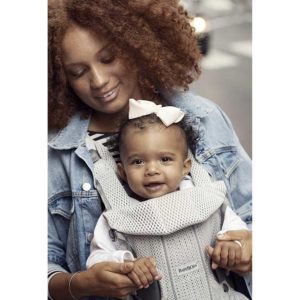 2| Infantino – Flip Advanced 4-in-1 Convertible Carrier
This Infantino flip 4-in-1 carrier is tailored with convertible seat that makes it ideal carrier for infancy. You can use the narrow seat position and padded head support to comfortably hold small infants. It comes with the handy Wonder Cover bib to protect your clothing and carrier.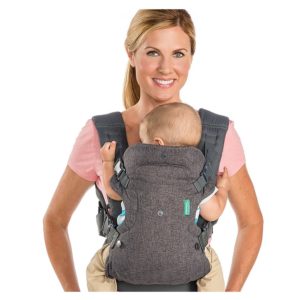 The adorable pink Pixie is one of our favorite baby carriers. It features a removable and adjustable hard board support with air holes, to provide protection and support to the baby's head and back. Along with an adjustable side opening buckle, to ensure safety. You can easily adjust the wide padded shoulder straps to your comfort and convenience. Also, it features cushioned armholes and leg openings, for the baby's delicate arms and comfort.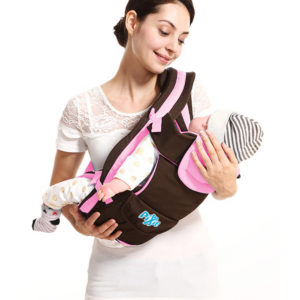 The 2 Way Carrier promises some wonderful, snuggly moments with your baby. It is a safe and comfortable baby carrier for ergonomically correct carrying. With the 2 Way Carrier, carrying is made easy with two variations, at home or away. Countless adjustment options and the reinforced head and back part aid correct posture and make carrying your child very comfortable. This is a perfect choice for both mums and dads.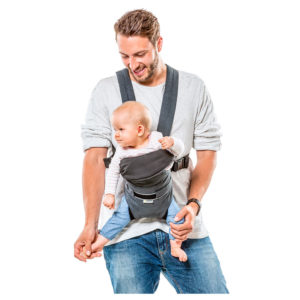 5| Natures Sway – Organic Baby Carry Wrap
With a little practice, this simple and time-honored carrier will become one of your most invaluable purchases. The Carry Wrap is the most comfortable carrier of all, it's like wearing a second skin. It works on evenly distributing the weight, so you can keep your baby close and snuggled up comfortably against your body for hours!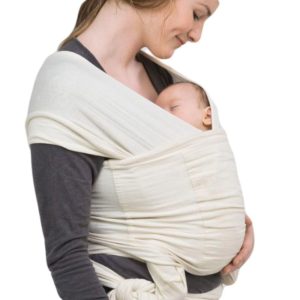 6| Kinderkraft – Huggy Baby Carrier
An ergonomic carrier which ensures a safe position for the child's proper development. This carrier helps prevent hip dysplasia and back pains. The breathable material and modern design makes it a great choice to keep your baby close while also protecting your body. You can wear it in two different positions: front and back.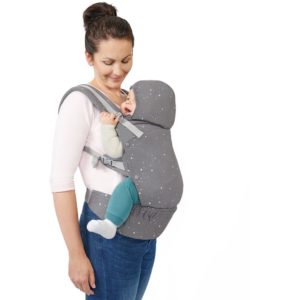 The Dreamgenii SnuggleRoo baby carrier is a soft, comfortable baby carrier made of high quality cotton. It is easily adjustable to fit perfectly every time. Dreamgenii SnuggleRoo is designed to recreate the movement and tight embrace of the womb. This provides physical and emotional benefits for the baby thanks to the calming feeling of security that it creates. This carrier is easy to adapt, thanks to two adjustable straps and a support band. The supportive carrier offers four positions for baby development. Which makes it a great long term investment.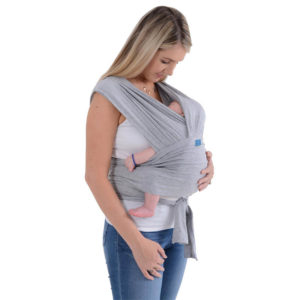 8| JJ Cole – Grey Circle Stripe Agility Carrier
This carrier has spacious interior and includes multiple compartments to stay organized. The exterior of the carrier offers easily-accessible open and zippered pockets. It includes 7 exterior pockets and 4 interior pockets and a convenient bottle pocket. This provides plenty of space for everything you need along the way.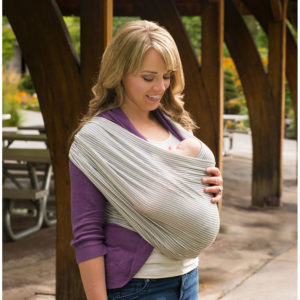 9| Ergobaby – 360 All Positions Baby Carrier
The 360 carrier offers every carry position for your 'do anything' days, from naptime at the market or together time at the museum. It features a lumbar support waist belt and a cushy shoulder straps along with a hood to keep your baby covered. It is lightweight, breathable, and great for active parents.
The Contours Cocoon Buckle-Tie baby carrier provides all the comfort of a wrap carrier with the security of a buckled waistband. This hybrid style, Meh-Dai inspired carrier features soft knit fabrics with embossed detailing, and air vents for all-day comfort. It also has five carrying positions to fit your baby from birth till the age of 6 months old.