Maternity belts are one of the greatest gadgets for pregnant mums and new mums. It is an item that will definitely accompany you throughout your pregnancy and even after. Read more on why do you need a maternity belt and which one to choose. 
Why would you need a maternity belt? Here are 7 reasons that answers the question! 
1| It helps you reduce pain
Maternity belts or belly pads help you avoid lower back pain. Many studies show that women who use maternity belts have less lower back or neck pains. This will help you move around more and do more activities without being in any pain. How does it to that? Well, maternity belts help distribute your baby weight across your back instead on one single sport to endure all the pain.
2| They help you maintain your posture
Again, maternity belts support your back and torso. Not only does it reduce back pain, but it also helps you maintain the right posture during your pregnancy. This will keep your spine correctly straight. They ley here is that the belt reduces swelling and thereby cutting any extra pressure on your back or muscles.
3| Use it after giving birth
Keep your maternity belt on even after you give birth. Wearing it postpartum helps closing up your abdominal muscles. We highly recommend wearing one after giving birth – especially when undergoing a C-section – as it takes off the pressure after undergoing it.
4| Back in shape in no time
Using a belly band after giving birth helps you get back in shape in no time. Of course, you need a proper combination of exercise, and a healthy diet to do it right.
5| It simply supports you all the time
When you wear a maternity belt, you body will be supported well. Whether during your pregnancy, or after you have delivered, it is perfect for reducing pain, avoiding joint pains, and preserving your body's shape and strength.
We also suggest to keep in mind these things when wearing a maternity belt: 
– Don't wear it more than 3 hours so your body wouldn't depend completely on it.
– Use it as an aid not as a solution.
– Always consult your doctor.
This postpartum belt includes 3 bands: a postpartum waist band, a belly belt, and a pelvis belt. All three belts are made of soft and breathable materials. Which helps contouring your body perfectly while providing maximum comfort. This after maternity belt helps redefining your waistline and shrinking your womb back to pre-pregnancy size. It provides the perfect supports for your posture postpartum.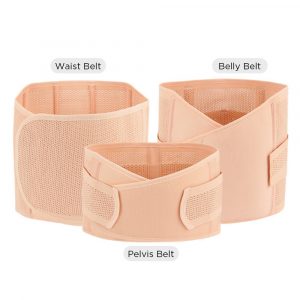 This exclusive Belly Bandit is a mums favorite. This is a comfortable and soft corset that will become your best friend postpartum. Its patent pending design creates the ability for you to have two different panels of compression that simultaneously cinch the waist, hips and belly.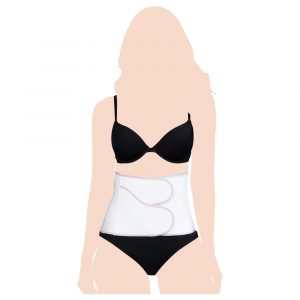 Another postpartum support belt that has an amazing and comfortable fit. You can adjust its length to you comfort. This maternity belt provides great back support to prevent any backaches during pregnancy and postpartum.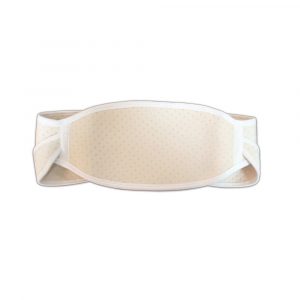 4| Mums & Bumps – Carriwell Seamless Maternity Support Band – White
Mums & Bumps offers a wonderful maternity and postpartum bandage to support you during this journey. It keeps you back comfy and warm, without feeling hot or strangled. You can wear it anytime anywhere as its seamless fabric allows you to wear it discreetly under your clothes. It supports your belly gently as your baby grow, and the breathable microfiber does not irritate your skin.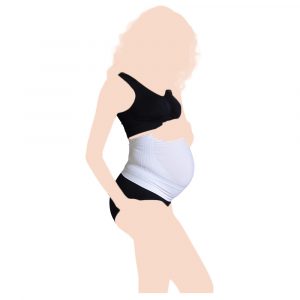 Get the perfect support you need during your pregnancy and after with Magic Body Fashion's Supporting Belly Band. It provides maximum comfort thanks to its seamless and soft design. And you will face zero pressure with tis stretchy material keeping you happy and comfy.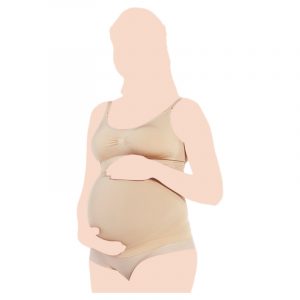 Another 2 in 1 postpartum band that offer great support for your belly and back. You can wear this band in three different ways. One, as a maternity support band, two as a hip wrap to help with cellulite. And finally, you can wear it as a support band for both your hip and back. Also, if you are planning to workout lightly during pregnancy and postpartum, this belly bandit is a perfect choice.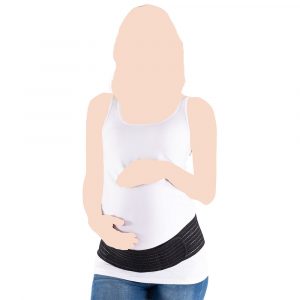 Enjoy this 100% cotton, soft and light postpartum support belt with its breathable and sweat-absorbent properties that gives you a more comfortable experience. You can adjust the size to your comfort as it includes three closures for you to adjust. The stretchy belt can provide more suitable compression to avoid discomfort. What makes this postpartum belt special is that it features a small pocket to keep a warm pad for hot or cold compress.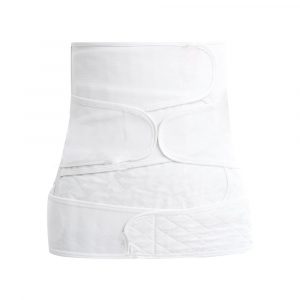 This bandage is perfect for postpartum. It helps reducing and shrinking your belly after birth while also supporting your waist and back perfectly. You can wear it at all times especially during breastfeeding to help improve your posture. The front of this postpartum belly band is designed with a spongy texture to keep you comfy all the time.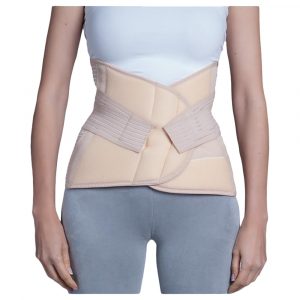 Get rid of the post-pregnancy weight and get your figure back into shape in no time with this abdominal belt. It is designed with a firmness to sculpt the waist without making you feeling too constricting or uncomfortable. We recommend you wearing it on top of a thin layer of clothes to avoid any skin irritations.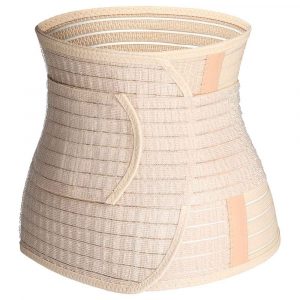 10| JoJo Maternity Support Belt White
JoJo Maternity's Support Belt is our favorite pick especially if you are travelling after giving birth. It is light, soft, and comfy. The wide design includes a two part support belt which helps relieve tension on the lower back and support the abdomen during pregnancy and also after the birth.