When it comes to healthy cooking, air fryers take up the conversation. Using air fryers has increased lately, and almost every house now has one. The key to buying them is healthy cooking without any harmful oils and fats. And here is everything you need to know when it comes to this new kitchen gadget! 
Why buy them? 
They save time 
Most air fryers are big for large meals. You can choose whatever size you want that suits you and your family. Cooking time is also cut in half when using them. 
Helps you cook healthier meals 
Less oils means healthier meals, especially when you're feeding kids. Deep fried foods are loved by everyone. Now you can make their favorite fried foods with much less oil and the same crispiness and yummy flavors. 
Less cleaning time 
We are all familiar with the fuss French fries makes. You need a frying pan, a stainless steel spoon to keep stirring the fries, a skimmer for getting them out without the oil, and a plate with paper towels to dry the fries. Then you need to clean your gas over and counters from splattered oil. A whole lot of work, righ? 
With air fryers, all you need is a serving spoon and plate. Chop them, toss them into a little oil and then into the fryer. Within 20 minutes you will have the perfect crispy French fries without any fuss or extra work. 
Also, the interior is entirely coated with a non-stick surface making cleaning it easier and faster, especially if you want to use it twice for one meal. 
Great for busy mums 
Meal prep no longer takes hours and hours. If you are making chicken, marinate them whenever you can – the longer the tastier. Then toss them into the air fryer and let them cook. This gadget is a true blessing for busy and working mums. 
Eco friendly 
Air fryers cook in less time than electrical ovens, meaning that using them saves electricity and energy. And because you are using much less oil and grease, you don't have to toss it away affecting the environment. 
What to look for? 
If you are about to buy your first air fryer, here are a few things to keep in mind:
– Budget.

– Size and capacity: how many liters?

– Shape: oval shaped or square shaped.

– Features 

– Power and temperature control 

– Safety 
Best selling air fryers
Enjoy the SmartTemp technology which automatically adjusts temperature to make everything super crispy on the outside and tender on the inside. It also has a shake reminder letting you know when to shake the contents for an even fry. This is a PFOA-free, BPA-free, non-stick coated air fryer, and it is also dishwasher safe.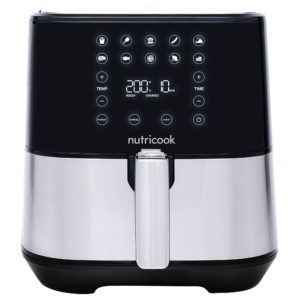 The Black + Decker AF200-B5 Air Fryer is an excellent addition to your kitchen. It boasts of the Rapid Air Convection Technology. This allows you to fry your favorite food such as fries, nuggets, and more. In addition to this, the handle does not heat up so that you can safely take the food out of the basket.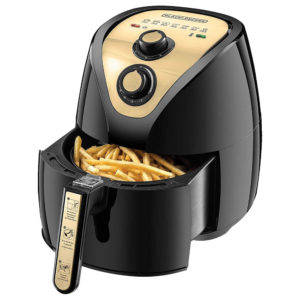 Feed the whole family, with guilt-free fried food and home-cooked meals. Perfect for busy households, The Ninja Air Fryer max is a healthier way to enjoy your favourite meals and snacks. Enjoy the same great taste with little to no oil – from crispy, golden chicken breasts and perfectly cooked salmon fillets, to roasted Mediterranean vegetables and homemade beef jerky. 6 cooking functions create a delicious variety of foods that the whole family will love – Air fry, roast, bake, reheat, dehydrate and max crisp. air fry: up to 75% less fat than traditional frying methods.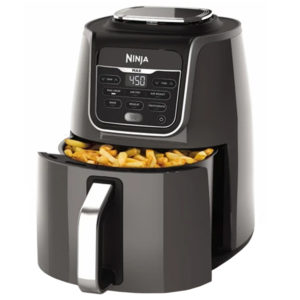 Touch Screen LCD Display: This device has a touchscreen LCD display. It lets you adjust the timer, the temperature and lets you know of the cooking progress. Double Protection Circuit: Double protection circuit ensures maximum safety. This device is layered, and you can check on your food while it is being fired.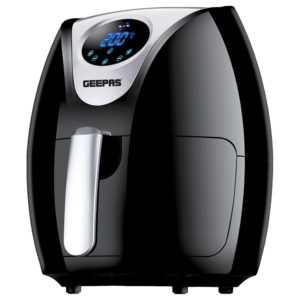 The Olsenmark 4L fryer makes for oil free frying, while saving time and energy by 50%. It vapors steam automatically and makes food crispy. It features dishwasher-safe drawer-type frying basket for easy use and cleaning. Its high performance system makes the hot air heating the food circularly.