Every kid loves science experiments, especially when done at home. Not only are they fun and entertaining, but they are also educational and develop your little ones' senses. They also expand their horizons and urge them to think outside the box. Try these experiments at home and enjoy your time with your kids! 
Reasons to do science experiments at home:
1| Develops children's intellectual development.

2| Teaches children how to wonder, discover, and explore naturally.

3| Science is fun for kids! 

4| Establishes great foundations to understanding STEM concepts. 

5| Science helps children develop key life skills including how to communicate and express themselves. 

6| Impacts children's interests later in life. 

7| Builds up their learning skills, logical and creative thinking. 
What experiments to try at home?
1| Instant water freezing.
It is pretty cool to see water turn into ice right before your eyes. To do this experiment you will need a 300 milliliters water bottle and a freezer. Put the water bottle for exactly 3.5 hours. It is very important for this experiment to stick to both the size of the bottle and the time it is left in the freezer. Once your timer hits 3.5 hours, take the bottle out slowly without shaking it. Then, you can either punch the bottle, throw it on the flower, or slam it against the counter. You will see how the water will instantly freeze and turn into ice. 
Children will love seeing this change right before their eyes! 
2| Making your own lava lamp 
Lava lamps are very awesome. Here is how you and your kids can make your own lava lamp at home. First you will need:
What to do?
1| Add 1 and a half tablespoons of baking soda to your empty jar. 
2| Fill your jar with vegetable oil on top of the baking soda. Leave the baking soda at the bottom and do not mix. 
3| In a separate bowl, add a 1/4 cup of vinegar, and add food coloring to it. Mix well and set aside. 
4| Grab your light – you can use your phone's flash-, and place it under the jar with baking soda and oil. 
5| Pour the colored vinegar into the oil and baking soda jar. Let it set and a minute or two later the mixture will start bubbling and moving up and down like a lava lamp! 
3| Balloon inflator 
All kids love balloons. Children will love this science experiment as it inflates balloons with no need for anyone to waste their breath. All you need are 4 things: vinegar, baking soda, an empty and dry bottle, and of course, a balloon. 
Get your balloon and fill it with baking soda. This is a 2 person job, one to hold the balloon open and another to fill it with baking soda. So, it is a great bonding activity for you and your kids. 
Then, add vinegar to your empty bottle. Do not fill it to the top. You will need about half or quarter a cup depending on the bottle's size. Now you are ready for the experiment! 
Place your balloon carefully over the top of the bottle. Stretch out and make sure to cover it fully so air won't escape. When you are all set, dump the baking soda inside the bottle and watch magic happen! The chemical reaction between vinegar and baking soda will inflate the balloon and your children will love watching that. 
A quick tip between us mums, do this experiment inside a sink or a bathtub to avoid ruining your furniture. 
There are plenty of science experiments to try out. Check out these books which teach many fun and safe science experiments for kids to do at home.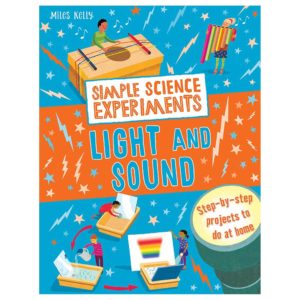 Clear, vibrant photographs and step-by-step instructions for many experiments. Each experiment has been designed with children in mind, so they are all clearly labelled with difficultly ratings and if extra adult assistance is required. Interactive learning is encouraged further with a fun quiz to allow kids to recall what they have discovered.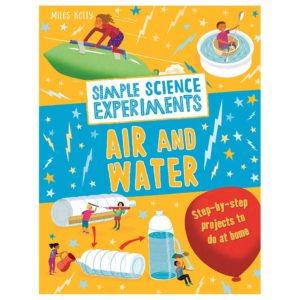 Packed with 10 super experiments, Air and Water explains lots of cool scientific ideas in a simple way! Includes step by step photographs an clear instructions show you exactly what to do. Let you kids test their knowledge with fun quizzes and practices recording their results like real scientists.
You can also get your children experiment kits which are fun and educational!
Crazy Science and Funny – Laboratory of Explosive Experiments is a kit for making many harmless explosions. A volcano that erupts, a rocket and a slime that explode in a sea of colors.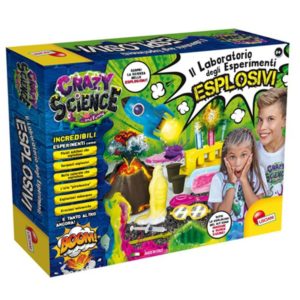 Could you imagine creating a perfume with your own personalized perfume? Learn how to make your own perfumes, scented bath salts and massage oils with the Science of Perfumes! You will love learning how to produce perfumes, fragrant flowers and much more!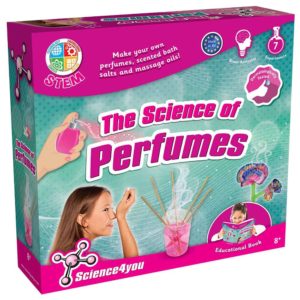 Explore the Glow in the Dark Lab set. This amazing kit includes 4 fun-filled activities. Child will be delighted to learn and explore the Glow in the dark Lab set with his friends. Children can set up their own science labs in the comfort of their homes! Kids will think hard while learning the principles of scientific observation and discovery while they play and experiment with these iridescent wonders.