As mums, we tend to look for the best of the best for our little kids. We don't want random toys that contribute so little to their milestone development. What we want is an approach that is fun and educational at the same time. And that is why many mums choose montessori toys for their kids. If you are a mum who wants to know more on what Montessori is, and how it contributes to your child's development – we have got all the answers. Plus what Montessori toys to buy, especially if you are living in Dubai. 
What is the Montessori approach? 
Back in the 1920s, Maria Montessori founded this educational approach to be today's most popular one. Today, this educational method is in use in many public and private schools globally, even school in the UAE. The Montessori approach directly targets developing children's own initiative and natural abilities. Especially through practical play. 
What most parents and teachers love about this approach is that they can apply it from birth and throughout children's school years. 
"The greatness of the human personality begins at the hour of birth. From this almost mystic affirmation there comes what may seem a strange conclusion that education must start from birth." – Maria Montessori
Montessori foundations
Experts sum up this approach by explaining its three main foundations.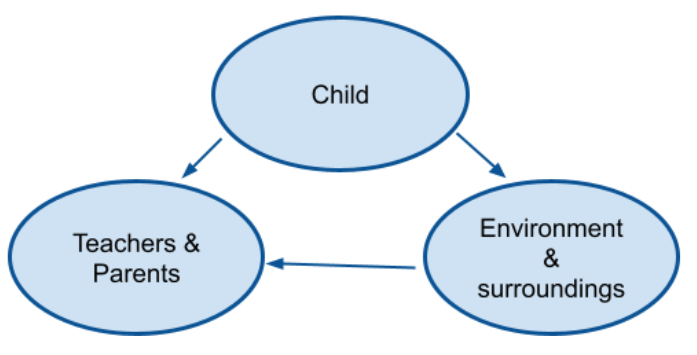 These three foundations need to work harmoniously in order to apply this approach perfectly. It all starts with the environment we as mums provide our little ones from birth. To support our kids' milestone development, we need to apply this approach in a compatible way in both home and school or nurseries. 
How to apply the Montessori approach for different age groups? 
From birth to 6 years old 
Firstly, applying this approach starts from birth. We can sum it up in 3 simple stages:
1| First stage, which is when your newborn baby starts to understand the environment that surrounds him or her. This is where their minds accommodate these surroundings. And this is very essential for their learning skills as they grow up. 
Know what are the best Montessori toys for babies here.
2| The second stage is where babies keep repeating certain actions until they master them. Like holding brick toys and squeezing toys. This can be called self-development. 
3| As for the third, it focuses on the baby applying both previous stages all together. 
At this age, you need to provide a supportive environment filled with freedom accompanied by discipline. 
Read more on choosing toys to help your baby's growth.
6 – 12 years old 
At this stage, babies and children go through significant physical and mental changes. This includes: 
– Learning towards group activities

– Using imagination and creativity

– Understanding the concept of organizing 

– Learning basic manners 

– Establishing self-independence 
To make the most of those changes, us mums should work with teachers to provide the best environment possible for their education. 
12 – 18 years old 
This is where our little children step into young adulthood. It is also where our kids shape their personalities and establish their interests. As mums, the best we can do here is be patient with the changes they go through. Especially that kids this age might experience lack of concentration and self doubt. They also start building up their confidence and self esteem.
18 – 24 years old 
This final stage fully relies on the adults our children have become. All the effort we put in during the previous age groups help us raise independent adults who can self-educate themselves. 
What skills does it teaches our children? 
This is what most mums are interested in. There are plenty of skills our children acquire from Montessori programs such as: 
– Practical life skills – which includes real life skills, emotional development, and social skills. 

– Sensory skills – like listening, compassion, and comprehension.

– Mathematics – which they can apply more through STEM toys. 
– Language skills – this includes learning other languages and more linguistic skills. 

– Cultural skills – which mainly includes knowing and understanding other countries and cultures. 
How to apply for a it all at home? 
1| Establish a clear routine. 
This includes a schedule which includes sleep time, meal times, play time and screen time. In addition, set certain zones for each activity. Like a play matt for play time, and their own seat during meal time.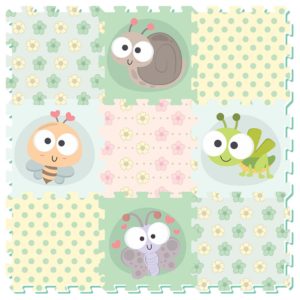 2| Provide what your baby's age needs.
If you missed applying to the program from birth, it's okay. It is never too late to start. Know what your child needs and provide it to him or her at home. To do so, you need to know how to buy the suitable Montessori toys and materials. 
3| Teach children self-independence.
We should not smother our kids or keep pointing them to what to do. Especially during play time. Let them be free, but surely keep an eye on them, and help them if they ask. Also, ask them to take care of their belongings and organize their toys rather than doing it yourself. In order to do so, make sure you have reachable storage places to help your children do the work themselves. 
4| Give them tasks to do. 
Children are capable of doing certain tasks depending on their age. Start from simple ones like putting their toys away, and gradually make those tasks more complex – like folding the laundry and cleaning their rooms. 
Also read how to use chores to build up your kids' sense of responsibility.
5| Keep an eye on both strength and weakness points.
Every child excels in certain areas, and needs more work on others. Know what those points are, reinforce them and help your child master them and perfect them.
How to choose the best Montessori toys for my kids? 
Those are the things you need to consider when buying a Montessori toy: 
– Your child's age

– The toy's materials. Which should be safe and BPA free. 

– You need toys that are attractive, colorful, fun and educational. 
This shape & sort wooden toy comes with 3 basic shapes. A square, triangle and circle. This toy helps develop hand-eye coordination, manipulation skills and color recognition.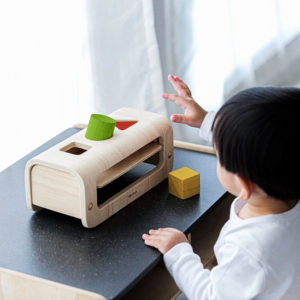 This Counting Montessori Ball Set will help your child to develop spoon and chopsticks usage. It will also develop their motor skills, color recognition, size classification. The counting part will help children to self-educate themselves on numbers and simple mathematical operations.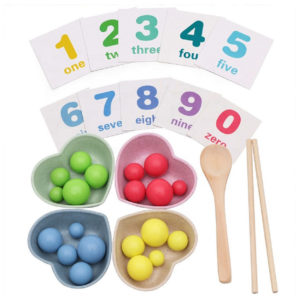 Wooden blocks are one of the most Montessori toys there is. Those blocks come in multiple colors and shapes to help children build, comparing shapes and recognize them.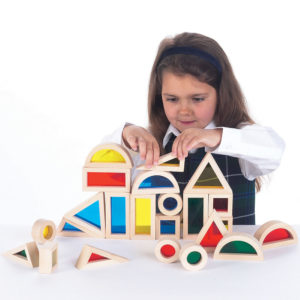 Space cube consists of cubes with one peg and cubes with 6 holes. They are connectable on all sides and rotate. They develop spatial sense of symmetry, logical thinking, problem solving, fine motor skills and creativity.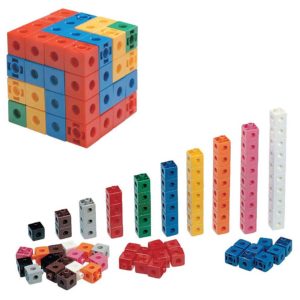 Bildits Advanced Kit is a STEM educational construction toy . It is an ideal DIY gift for kids. It helps them build miniature realistic houses for a real building experience. The kit includes: cement, bricks, roof Tiles, doors, windows, wooden Roof Structure, formwork, paint, putty, brush, trowel, shovel, water recipient, gloves, and a working Sheet.